#FlipboardChat Summary: How Companies Use Flipboard
MagMaker / March 12, 2015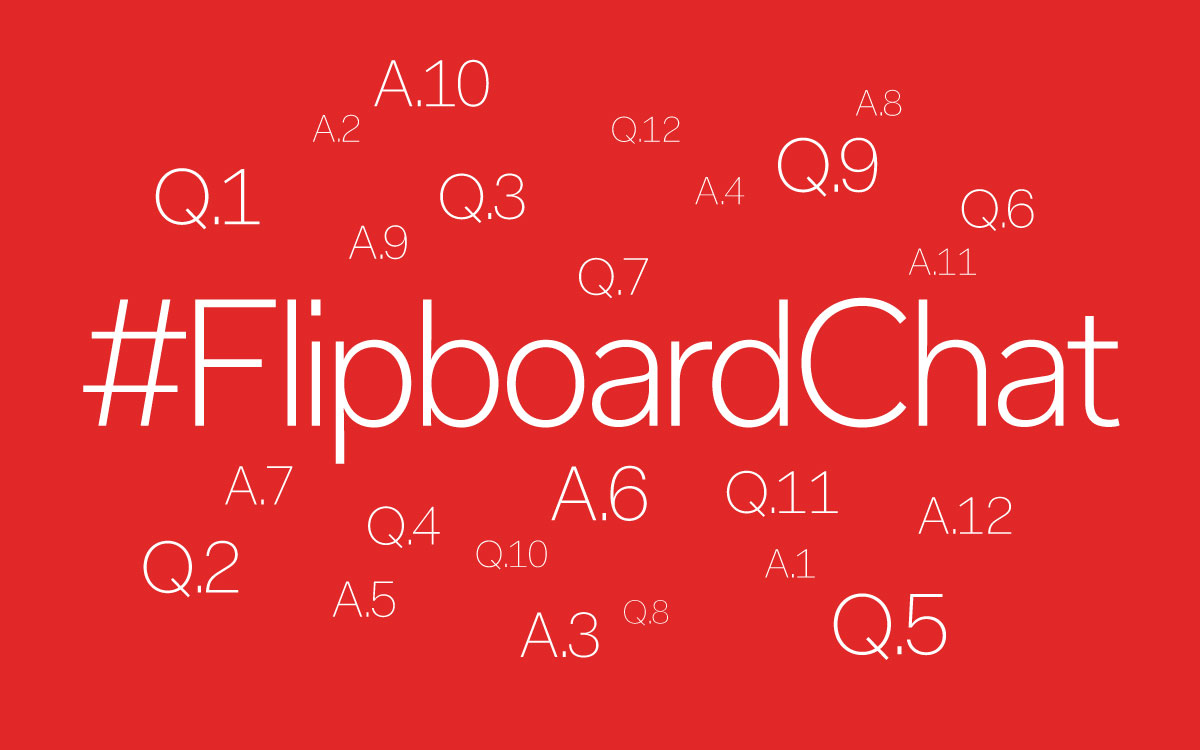 Every Wednesday evening, members of the Flipboard Club—an unofficial group of passionate evangelists—hold a Twitter chat about a Flipboard-centric topic. The chats are usually so informative and inspiring that we thought we'd summarize the tips, tricks and ideas discussed each week and let you know what the next topic is going to be. (Tonight's topic is "Understanding the Basics of Flipboard Magazines." Join in the chat at 7pm PT / 10pm ET via the #FlipboardChat hashtag on Twitter. If the time zone doesn't work for you, join their Facebook group to stay in the loop.)
Last week, participants chatted about the ways companies can use Flipboard. Here's what they said:
Q1. What are some of the ways companies can promote their business to the millions of Flipboard users?
There are many opportunities, including showcasing your culture, products/services, blog posts and fan-generated content.
Tell the story of your brand in a mag! Collect customer testimonials.
Announce new products or promotional campaigns.
Get to know your customers and consumers inside and out.
Stand out as an opinion leader.
Brands, such as charities, can use magazines to reach the public, inform them of the cause and a call to action.
By flipping into your magazine, you can reach followers via Cover Stories.
Q2. What benefits can a company get from curating Flipboard magazines specifically?
Companies can potentially open themselves to a whole new audience—a blue ocean!!
A magazine can be like sending out a big glossy catalog, but less expensive and environment friendly.
Magazines are a way to show off influence and leadership. They express your brand's value.
Curation can reach a more targeted audience via topics.
Q3. What are some creative ideas for Flipboard magazines companies should consider?
So many! a) How-to: explain how to use product or service. b) Show life inside co. (for recruitment) c) Take readers behind scenes of project or campaign "inside look."
Create a guide/resource manual for employees.
Encourage customers to tag creative content with a hashtag and then flip it; Instagram photos of your products, etc.
"Parallel magazines" are a great idea: Like if you're a car company, make a catalog of road trips.
Q4. What should companies take into account when selecting sources for their Flipboard magazines?
Flipboard is highly visual so that type of content looks best; image resolution matters greatly, especially on covers!
Check that sources truly represent brand. You don't want any rogue links to show up, particularly if seeking to reach kids.
Use sources you trust. A flip is an endorsement.
Depending on the goal/objective, use different sources. In general, use a wide spectrum, multiple POVs and GREAT images.
What's also key for companies is that they can create their own content: photos, sound, blogs, etc.
Companies need to make sure content is dynamic and the kind that draws readers to want to reflip into their own mags; articles that are captivating and visual enough for people to want to save.
Q5. What are your best curating tips for a company looking to start a Flipboard magazine?
Figure out your goal right off the bat. Is your mag about an industry, fan content, recruitment, etc…
Ask yourself if the mag has value to the readers today, tomorrow or even next year.
Have a good cover — a clear photo that you want to be the face of your brand.
Think about SEO on Flipboard and off. Have a good title but be sure it makes sense and use keywords in the title or in the description.
Most companies have websites, start there. Showcase content that may not be obvious.
Use topics to find content applicable to your brand. Follow topics you might want to flip from later.
Just like the rest of social media, it's not all about you. Flip stuff of interest to readers!
Q6. How can companies use Flipboard magazines to connect with the community?
Highlight user-generated content, like people using your products or geeking out over them. Sharing = caring!
Showcase your community by creating a magazine of their content: Instagram photos, tweets, etc.
Showcase local businesses and events, like a Halloween parade…
Local governments can use mags to reach out to citizens.
Curate a magazine that includes responses from customers, like Tweets.
See what resonates with people by noticing what they reflip, like and comment on—then do more of that on Flipboard or on other platforms.
Q7. Can companies use Flipboard magazines to find and recruit talent?
Imagine going to a career fair and being able to show prospective candidates a glossy digital magazine about your company.
Take us behind-the-scenes! What's your culture like? Give us a sense of what it's like to work there. Make me want to.
Use a magazine like a job board/bulletin—post your openings there.
Show that you're ahead of the curve and willing to step out and try new things.
Cross-promote your magazines on social media. Build excitement!
Have potential candidates curate to make sure they're tech-savvy, have good taste, are plugged in — a test of sorts.
Q8. Which companies and brands have you seen use Flipboard magazines well?
Don't forget to join the #FlipboardChat this week: the topic is "Understanding the Basics of Flipboard Magazines." Start chatting on Twitter on March 11, 2015, at 7pm PT / 10pm ET, or come back to this blog for an update.
~MiaQ on behalf of the Flipboard Club
@flipboard
/flipboard
+flipboard