What I'm Reading: BBC News Reporter Laura Locke
Inside Flipboard / March 18, 2015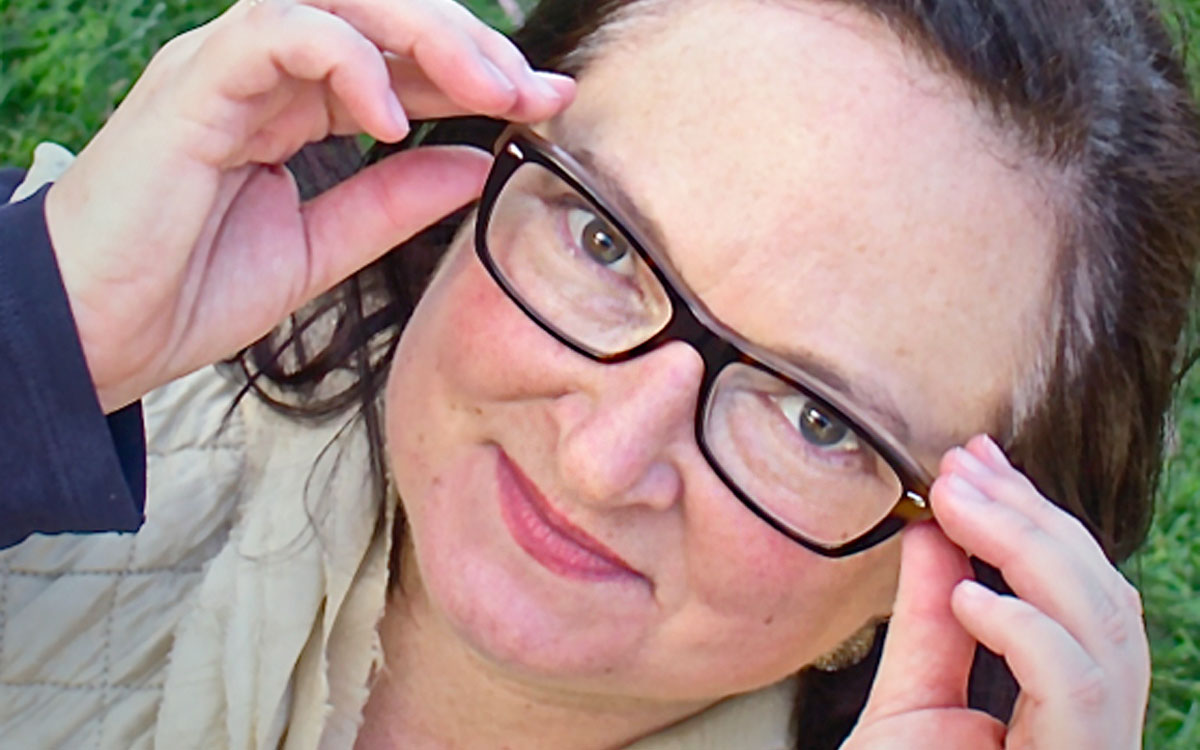 It's hard to predict the future of tech. Overnight sensations can turn into tomorrow's duds, and anyone claiming to know a thing about what's next should have plenty of credibility.

One such person is Laura Locke, tech reporter for the BBC. Formerly at TIME, Locke focused her career on covering all facets of the startup scene and nabbed interviews with some of tech's biggest personalities, such as Steve Jobs, Mark Zuckerberg and Sergey Brin.
While she doesn't claim to be a soothsayer, Locke's reporting helps readers get insights into the next big things. And where does she do some of her research? On Flipboard, of course— which is why we couldn't help but ask: what are you reading?
I follow a dizzying number of topics—well over a thousand.
Why?
Well, I've always been a very curious person with, some say, a rather "wild intellect" and imagination. Flipboard is one platform that helps satisfy my conceptual appetite for in-depth, meaningful content (textual, visual, and aural)—and surfaces all of that on a daily, sometimes hourly basis. And, of course, the UI is strikingly beautiful and flipping articles is, well, simply addictive.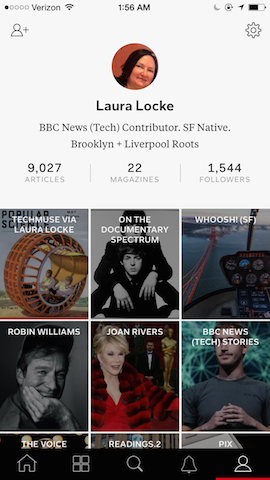 Sources I turn to regularly:
— Hacker News: Y Combinator's news arm. The community upvotes some terrific and timely tech news, profiles, features and more arcane stories appealing to developers and general readers alike.
— 9to5 Mac and 9to5 Google: Always breaking news on two of Silicon Valley's legendary companies.
— Techmeme: A highly regarded aggregator for top tech news. There's no official mobile app, so tapping into the site's content via Flipboard while on the go is really great. Plus, the look and feel of Techmeme on Flipboard makes it an entirely different viewing experience compared to the Web.
— Flipboard Picks: Insanely great misc. reads and images—a daily go-to.
— World Photography News by Nicholas Goodden & Stewart Duffy: Just go have a look 🙂
As an undergraduate, I studied English at U.C. Berkeley with an emphasis on multi-cultural, especially African American, literature. My thesis was on the works of novelist Richard Wright and internalized alienation from racism.
At Stanford I studied journalism and documentary film and did my M.A. thesis on educational multimedia technology and state government incentives. These topics appear in my magazines as well.
Discovery is constant on Flipboard. One topic I was interested in—but didn't know the name of—was "Transhumanism." Despite my familiarity with "The Singularity" and artificial intelligence, I hadn't heard that term before. It roughly refers to the melding of man and machine.
One of the most surprising discoveries on Flipboard is a social one: While I never set out or expected to meet a new friend on the platform (that's not how I use it), somehow I connected with an incredible designer in Frankfurt, Germany, who does amazing iPhone portraits. I noticed he visited my magazine regularly and he was incredibly engaged with images and stories I posted. Then we began sharing comments on flips, and I found his designs and artwork on Instagram and in his main Flipboard magazine "MARC2U."
Marc's work is ethereal, haunting, serious and whimsical—I've never seen anything quite like it—so his designs frequently appear on the cover of TechMuse. I still can't believe he creates these intricate portraits all on an iPhone. In my view, Flipboard is great venue for showcasing new and unknown artists. Everyone should consider posting original artworks on their magazine covers!
The process of exploring, discovery and learning is my favorite thing to do—that's really what first attracted me to reporting and writing: working in journalism allows you to be curious on a daily basis. Flipboard only amplifies that experience, accelerates it and beautifies it.
Flipboard's "Editor" tool is an easy way to grab online stories, photos, videos and audio and flip it into my magazines. I use this feature religiously. I also rely on scanning and flipping loads of content from scores of topics I'm following from Flipboard's official publishing partners. Those automatically show up in my (personalized) feed.
I tend to follow magazines as opposed to other "people" (individual accounts) — part of my idiosyncratic nature I suppose. I like my journey of news and content discovery to be my own—personal, intimate.
That said, I do enjoy flips from fellow readers with a sharp eye for incredible and unusual reads: Robert Scoble, Mike McCue, Evan Doll, Harry McCracken and Ken Yeung, I flip their stuff often because we gravitate towards the same stories in tech, science, society, but I also learn a lot from what they are reading, seeing, etc. and I respect and appreciate their perspectives.
Flipboard has been a huge influence on my journalism. My early reporting on the company helped me understand Flipboard's magic: the platform is fluid, dynamic, real-time: the digital framework encapsulates what is happening in the world, just as print magazines have always done, but Flipboard enables the consuming and sharing of potentially unlimited media streams at an unprecedented velocity. It helps that the user interface is ultra easy on the eyes.
In my own magazines, Flipboard allows me to see themes and identify recurring patterns and even emerging trends. Seven months ago, I started my first and now primary Flipboard magazine, "TechMuse."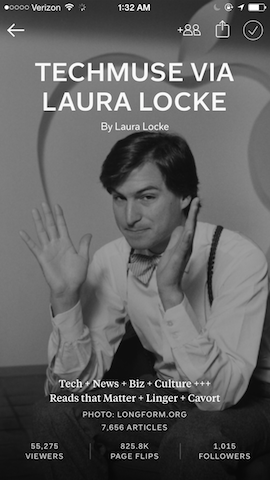 TechMuse
It was purely an organic undertaking. My idea was simply to learn how the magazine-making feature works. A blend of news, images, stories from my own journalism portfolio, etc. I wasn't entirely sure where I'd go with it—I just began creating something I thought I might like to read.
Soon after, though, I began sharing "TechMuse" with friends, family, colleagues, and on Twitter, etc. I let people know it's a work-in-progress — "a living, breathing thing that will change over time."
The magazine really took off, though, when Flipboard started featuring it as a "Top Tech Magazine," and since Flipboard 3.0 launched with over 30K topics and an amped up algorithmic backend last October, I've gone from 39K viewers to almost 60K viewers.
And it keeps on growing. Typically, I get 1K to 3K page views daily and several thousand new viewers a week. My all-time high for page views is 6,690 on a single day in February but a thousand new readers over a weekend isn't unusual.
During breaking news events such as the death of Robin Williams, three thousand new readers came on within hours: I just began posting news stories, updates and tributes as they began appearing online. When NYT's media columnist David Carr suddenly died in mid-February, I also began posting right away and gained 600+ new followers in one hour. Besides surging growth, I'm also seeing extraordinary engagement on Flipboard. Some stories can get 150 interactions (likes and re-flips) — that's astounding — and in my experience unparalleled engagement compared to other social media platforms.
What's most amazing:
In a magazine mainly devoted to technology, readers' appetite for content related to mental health, especially as it relates to startups and entrepreneurship, is off the charts. Stories about stress, anxiety, depression, alienation and suicide grab a staggering level of interest and engagement within TechMuse. Three out of five of my all-time "most viewed" posts are concerned with mental health, according to Flipboard's analytics tool.
It's great because one of my goals with TechMuse and my other two key magazines "On The Documentary Spectrum" and "Whoosh! (SF)" is inclusion — de-stigmatizing uncomfortable topics, ideas, themes and groups of people — helping mainstream the marginalized in society. I'm proud to be part of that aspirational communication.
I love sharing information and helping keep people aware, educated and empowered. I keep my global base of readers in mind when curating—and hope they can feel the love, energy and thrill of it all as I do. There's a lot of intent and emotion that goes into my creative process: Flipboard encapsulates it perfectly.
~ShonaS is curating "Compulsive & Conscious"
GET FLIPBOARD ON:
iOS / ANDROID / WINDOWS / WEB
FOLLOW US ON:
FLIPBOARD / TWITTER / INSTAGRAM / FACEBOOK / GOOGLE+ / TUMBLR / YOUTUBE / SOUNDCLOUD / PINTEREST / MEDIUM