The Week in Review: Present Day Back to the Future
Gabriella Schwarz / October 23, 2015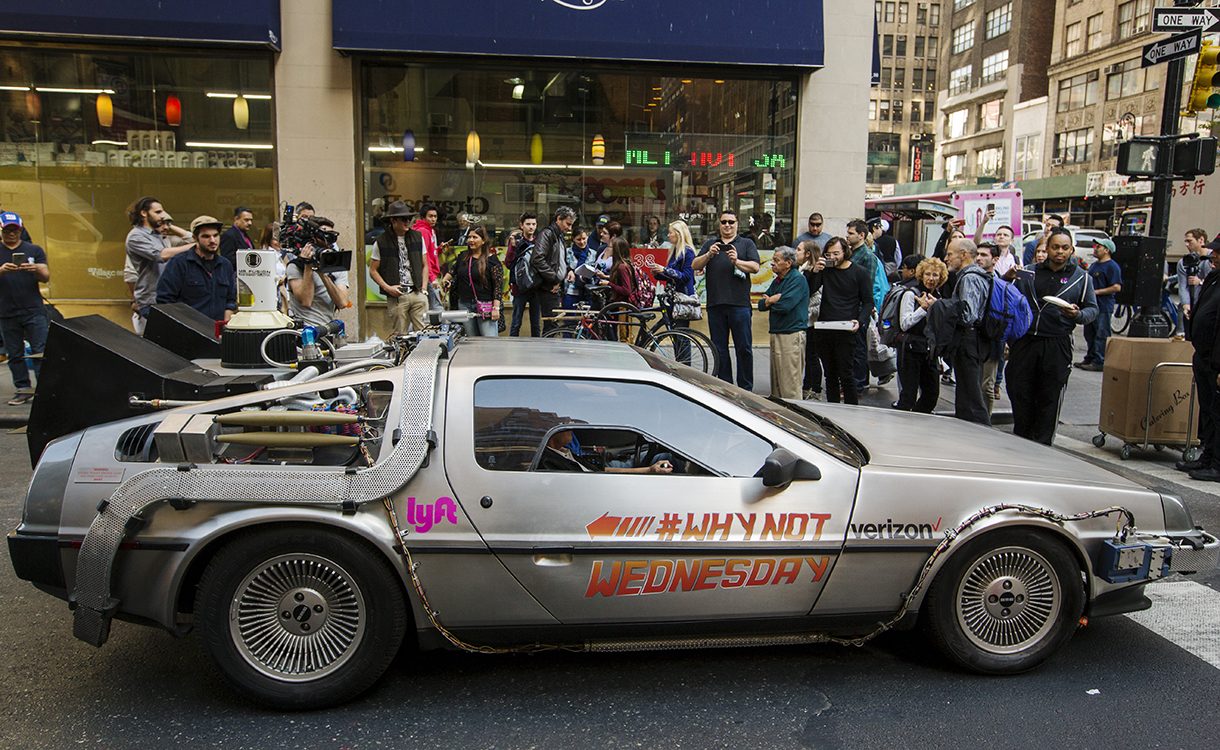 In 1989's "Back to the Future Part II," Marty McFly, played by Michael J. Fox, and Dr. Emmett "Doc" Brown, played by Christopher Lloyd, traveled into the future, to October 21, 2015. They found flying cars, hoverboards and portable garbage-powered nuclear reactors, among other new-age advancements. The date's arrival this week caused something of a national holiday. The "event" was covered on TV and social media throughout the week and inspired a USA Today cover remake and even a Toyota ad.
Comparisons between technology in the blockbuster classic, referenced by former President Ronald Reagan in his 1986 State of the Union address, and what exists today revealed striking similarities. Marty, Doc, Biff and Jennifer interacted with wearables, large flat-screen TVs, video calling, biometrics, drones and tablets, all things that exists now and did not in 1989. But the film didn't predict everything accurately, like the use of flying cars, functional hoverboards, smart clothing, food hydrators and hologram advertisements. We still have a ways to go on those.
This week, love for the "Back to the Future" trilogy (the third movie came out in 1990) united celebrities, journalists and politicians, including President Barack Obama, who tweeted to Michael J. Fox, "Ever think about the fact that we live in the future we dreamed of then? That's heavy, man."
If you are not full on "Back to the Future" mania, a Nike version of the famous sneaker sported in the movie will appear in auction in 2016 with money going to the Michael J. Fox Foundation.
In the trilogy's honor, find magazines for your present and future on Flipboard.
Back to the Future by Mike: Read behind-the-scenes stories about the trilogy and how the stars celebrated this week's milestone.
Future Technology by PaulRocket: Back to the Future predicted what technology would look like today. Keep up with what's coming next in the mobile and computing worlds.
MOVIES Today by M A Haridy: The best movies of the past and present.
Ultimate 80's Music Videos by Paul D Aronson: Relive the "Back to the Future" decade with the best of '80s music.
Vintage by nuddyluddy: Throwback to the technology, popular culture and celebrities of times gone by.
Celebrities Gossip by JamieCrock: Your celebrity news, gossip and fashion recap.
~GabyS is curating TV Shows That Were
GET FLIPBOARD ON:
iOS / ANDROID / WINDOWS / WEB
FOLLOW US ON:
FLIPBOARD / TWITTER / INSTAGRAM / FACEBOOK / GOOGLE+ / TUMBLR / YOUTUBE / SOUNDCLOUD / PINTEREST / MEDIUM