The Week in Review: New Species Found
Gabriella Schwarz / October 9, 2015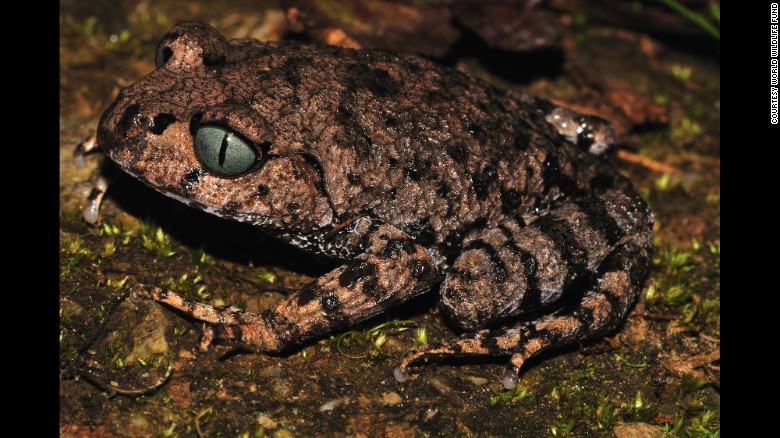 More than 200 new species were discovered in the Himalayas in recent years, according to a report published this week by the conservation group World Wide Fund for Nature (WWF). The Leptobrachium bompu, a frog with greyish-blue eyes and a vertically-oriented black pupil; the Channa andrao, a blue "walking" snakehead fish that can breathe air and live on land for four days; and the Protobothrops himalayansus, a poisonous vipe that grow snearly five feet long, were among the newly found.
"Some 133 plants, 39 invertebrates, 26 fish, 10 amphibians, one reptile, one bird and one mammal have been discovered over the past six years in the Eastern Himalayas," the report reads.
That means 35 species per year were unearthed in the eastern Himalayas, a region that includes Bhutan, northeastern India, Nepal, northern Myanmar and southern parts of Tibet.
Unfortunately, the area is facing difficult conditions, including invasive species, water pollution, illegal hunting, fishing and logging, according to the report. WWF warns of increased human development in the region, where only 25 percent of the original habitat is intact.
Learn more about new species, wildlife and the environment through magazines on Flipboard. You can also check out WWF's writings in their Flipboard section.
New Species by Awe of Nature: Keep up with the latest plant and animal discoveries.
Furry Friends by TakePart: This magazine curated by TakePart, a digital news magazine about social action, looks at the obstacles facing animals around the world.
Flora, Fauna and Wildlife by Sutanto Mangunhutomo: Read about how governments and citizens interact with plants and animals in the U.S., U.K., and parts of Asia.
Extreme Weather and Pollution by Dr. Drive: Follow the changing weather patterns that impact our surroudings.
Science Fractions by archwizard: A broad look at science in all areas of life, including how it impacts animals.
Animal Kingdom by Christina: Photos of birds, bears, lions and more.
~GabyS is reading Baby Animals
GET FLIPBOARD ON:
iOS / ANDROID / WINDOWS / WEB
FOLLOW US ON:
FLIPBOARD / TWITTER / INSTAGRAM / FACEBOOK / GOOGLE+ / TUMBLR / YOUTUBE / SOUNDCLOUD / PINTEREST / MEDIUM