The Week in Review: Catholic Church Debate
Gabriella Schwarz / October 17, 2014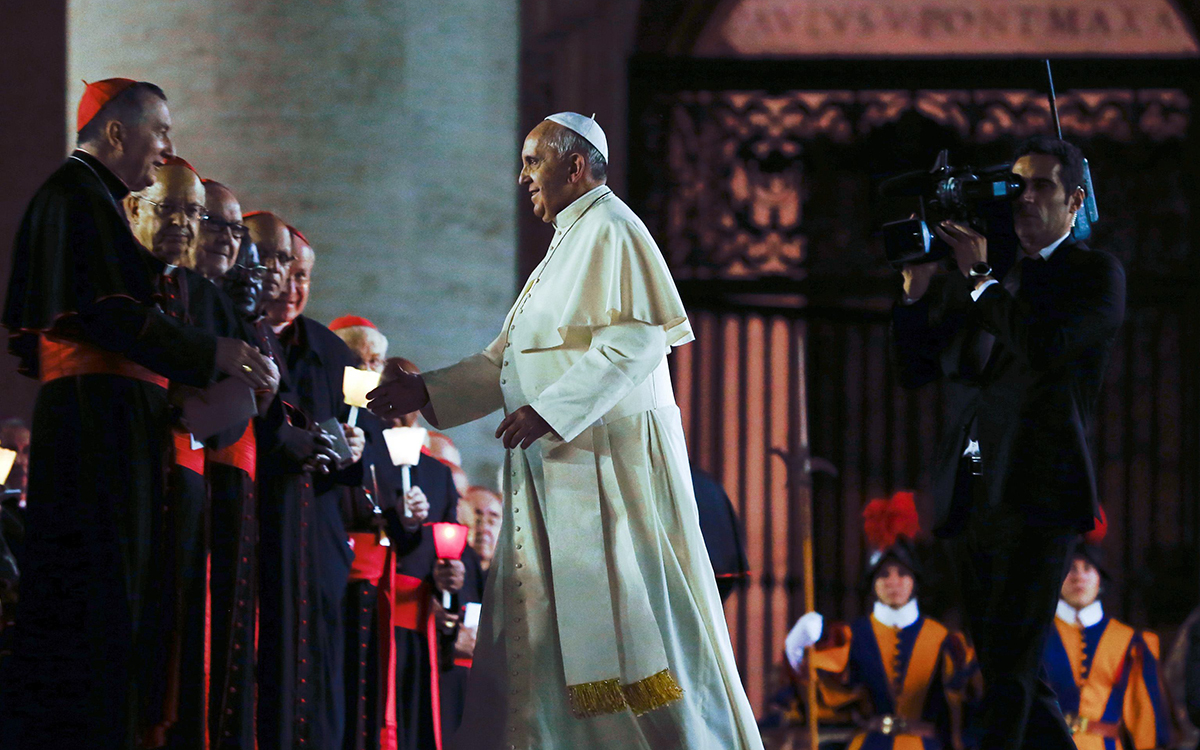 Over 19 months ago, Jorge Mario Bergoglio became Pope Francis. The pontiff has since changed the face of the Catholic Church, speaking out against income inequality and poverty and about the importance of family and responsible government.
While the Pope enjoys record popularity levels, the teachings of the Catholic Church often stir debate in the U.S., most recently surrounding gays and same-sex relationships. A group of Roman Catholic bishops gathered at the Vatican this week to address the future of the church. They produced a preliminary paper that called for the church to accept unmarried couples, those who previously divorced and gay people, who have "qualities to offer to the Christian community," the bishops wrote.
The writing, believed to be the first positive statements about same-sex relationships from the church, was met with applause by some and criticism from others.
Archbishop Bruno Forte said the church does not support gay unions or marriages, but it must "respect the dignity of every person."
"The fundamental idea is the centrality of the person independently of sexual orientation," he said after the document's release.
Cardinal Raymond Leo Burke said "worrying tendencies" were emerging because the group was "supporting the possibility of adopting a practice that deviates from the truth of the faith."
The firestorm and international headlines that followed the paper in part caused the Vatican to backtrack. In a statement later, they called the report a "working document" not intended to create "the impression of a positive evaluation" of same-sex relationships or unmarried couples who live together. A final report is expected to be released Saturday.
The Vatican tug-of-war reflects conversations globally and in the U.S., where opinions about religion are constantly changing. A recent Pew survey found three-quarters of Americans think religion is losing influence in America but want it to play a more central role in politics. Since the 2010 midterm elections, there was also an increase in those who said their views on social and political issues should be expressed in places of worship.
Readers are collecting stories about religious issues and people on Flipboard. Here's a sampling.
Pope by Elayne Casados: Tracking Pope Francis, from his most recent travels to his statements.
Religion Newsflips by clasqm: News about Catholicism, Mormonism, Judaism and Islam.
Vatican by Kyle Andrew Brown: Images, video and speeches from the seat of the Catholic Church.
Temples by Balasubramanian: See the beautiful temples of India.
Buddhism by navneetnair: The teachings and customs of Buddhism.
Faith by Ambrose Pan: Sayings, scripture and quotes.
~GabyS is reading "Monuments"
/flipboard
@flipboard
+flipboard