The New Flipboard Gets Personal with Over 30,000 Topics to Follow
Inside Flipboard / October 29, 2014

We're on a quest to create the world's best personal magazine, and today's update—the third generation of Flipboard—builds on our core tenets. The new Flipboard is both more personal and magazine-like. Here's how:
1) With over 30,000 topics now available, your Flipboard can be as unique as you are. Topics range from "action hero" to "zoology" (and everything in-between), and you can find them via search or by tapping on the new topic tags on articles. Press "follow" every time you want to add something (or someone) to your Flipboard and watch as your experience becomes tailored to your life.
Topics are fueled by Zite's technology but they're also powered by people: Flipboard's magazine makers, to be precise. Our "MagMakers" have curated over 10 million magazines around subjects they're passionate about, often flipping in insightful articles, stunning photos and powerful videos and music. Our community's hand-picked selections, indexed by our algorithms, yield a potent new mix of topical content you won't find anywhere else. Take a look:
2) Want to catch up on the news in a fast, definitive way? Meet The Daily Edition, a carefully curated roundup of top headlines in news, business, tech, sports and culture, along with some fun elements, like a daily track and a Parting GIF to send you off on your day with a smile. Curated by the Flipboard team, The Daily Edition is currently available in editions for the U.S., UK, Latin America, U.S. Latino, Brazil and India, and is ready every day by 7:00 a.m. local time. You can find it among your tiles.
3) We're rolling out an all-new design for the phone, where Flipboard has been re-imagined to be more magazine-like and elegant. Open Flipboard, and you'll be immediately immersed in a highly-visual and up-to-the-minute stream of articles, photos and more based on your areas of interest. There are airy full-screen covers, fresh typography and a new navigational bar that lets you quickly access your home feed, your tiles, search, notifications and your profile.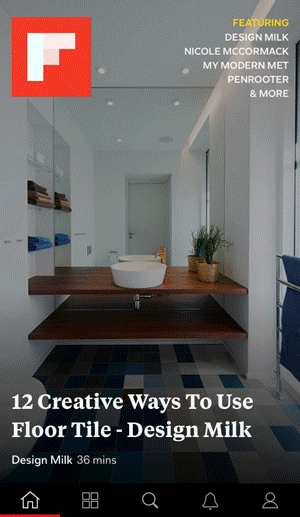 4) The MagMakers among you will be excited to learn that there's an updated look for profiles and a new Web tool called My Analytics, which offers an overview of how your curation is performing on Flipboard. And because we admire the work of our MagMakers, we're launching a new series today called "My Magazine," videos that spotlight inspiring people, their personal journeys and magazine expressions. Be sure to check out the clips and share your story with us using the #MyMagazine hashtag.
Finally, as part of this new edition of Flipboard, we've updated our Privacy Policy and Terms of Use (effective October 30, 2014) to accommodate all the new features and to explain our practices more clearly.
There's something for everyone in this third generation of Flipboard, whether you have deep interests, are a passionate curator or just want the latest headlines. So update today, start following topics and people, and truly make Flipboard your own.
~The Flipboard Team
/flipboard
@flipboard
+flipboard