Flipboard Arrives on Windows Phones
Inside Flipboard / October 2, 2014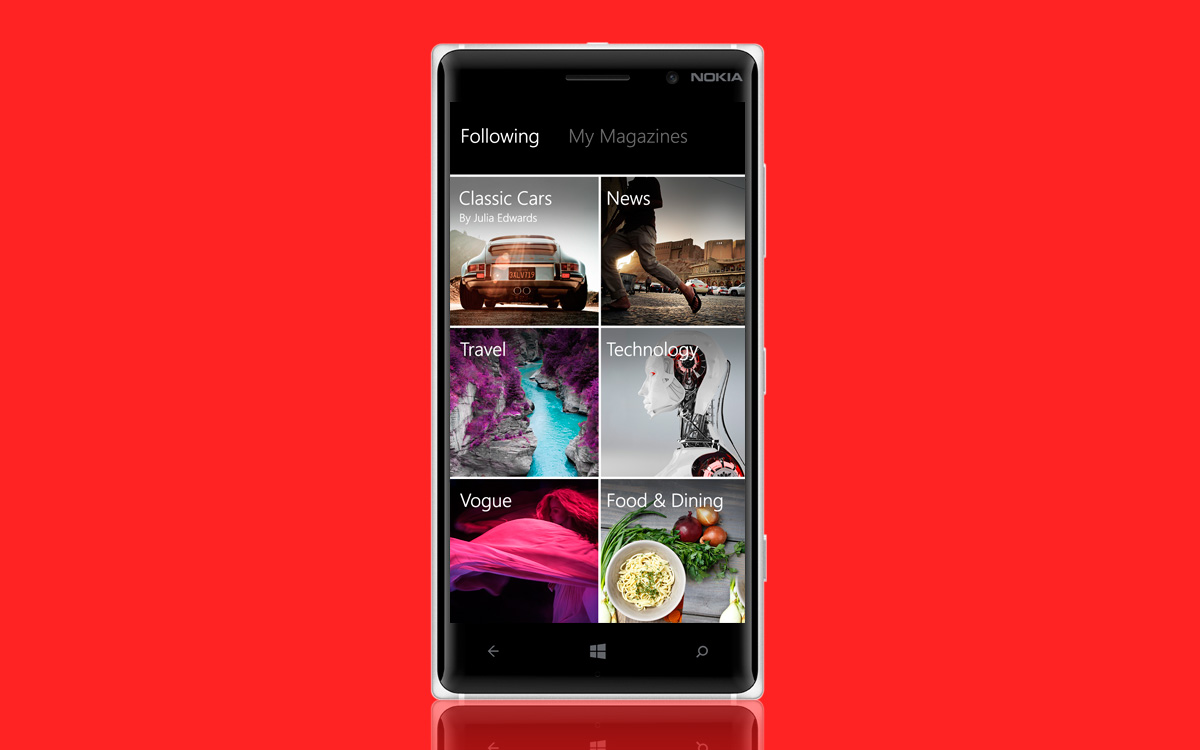 UPDATE (12/16/2014): Flipboard now supports all Windows Phones running Windows Phone 8.1.
Windows Phone fans can get excited about the Lumia 830 rolling out around the world—and the Flipboard team is ready to celebrate too. Flipboard is pre-loaded on Lumia 830 phone and is available on Windows Phones with at least 1GB RAM, such as the Lumia 920 and HTC One M8. Like our release for Windows tablets and desktops, this newest edition of Flipboard is tailored just for Windows Phone 8.1 users.
From its architecture to visual design, Flipboard for Windows Phone includes some great features. As CTO Eric Feng explains, "We're re-imagining many of our designs and interactions so readers can get to more of the content they care about more quickly." Check out a video interview with Eric on all the interactions that make this launch unique to Windows Phone, or see a list of the features below.
Cover Stories is central: After you pick a few topics for your magazine, Flipboard takes you directly to your Cover Stories. Cover Stories collects highlights from everything you're following and gets more personalized as you add new things to your Flipboard.
Search and follow more sources: Continue to customize your Flipboard by tapping on the search icon in the top right corner. Enter keywords to find articles, photos, publications and Flipboard magazines, or browse through sections like News, Tech, Travel and Design. Open the app bar (it looks like three dots) on any story for the options to Share it or Follow the story's source.
See everything you're following: All the sources you've followed are listed in one place. Tap the menu icon in the top left to find everything on your Flipboard, including the sources you've added and the magazines you've been making.
Share to other Windows phone apps: When you find something you think is interesting on Flipboard, you can share it to other Windows phone apps. Tap the share icon on articles, photos and videos to send it as a text message, email, social media post and more.
You can download it from the Windows Phone App Store today. The Microsoft and Flipboard teams will continue to work together in the months ahead to develop a roadmap for optimizing Flipboard for lower memory Windows Phones. We're excited and we are eager to hear your feedback. Let us know any thoughts or questions you have at our support page.
~The Flipboard Team
/flipboard
@flipboard
+flipboard