Daily Edition Top 10 (Week of August 31, 2015)
Gabriella Schwarz / September 5, 2015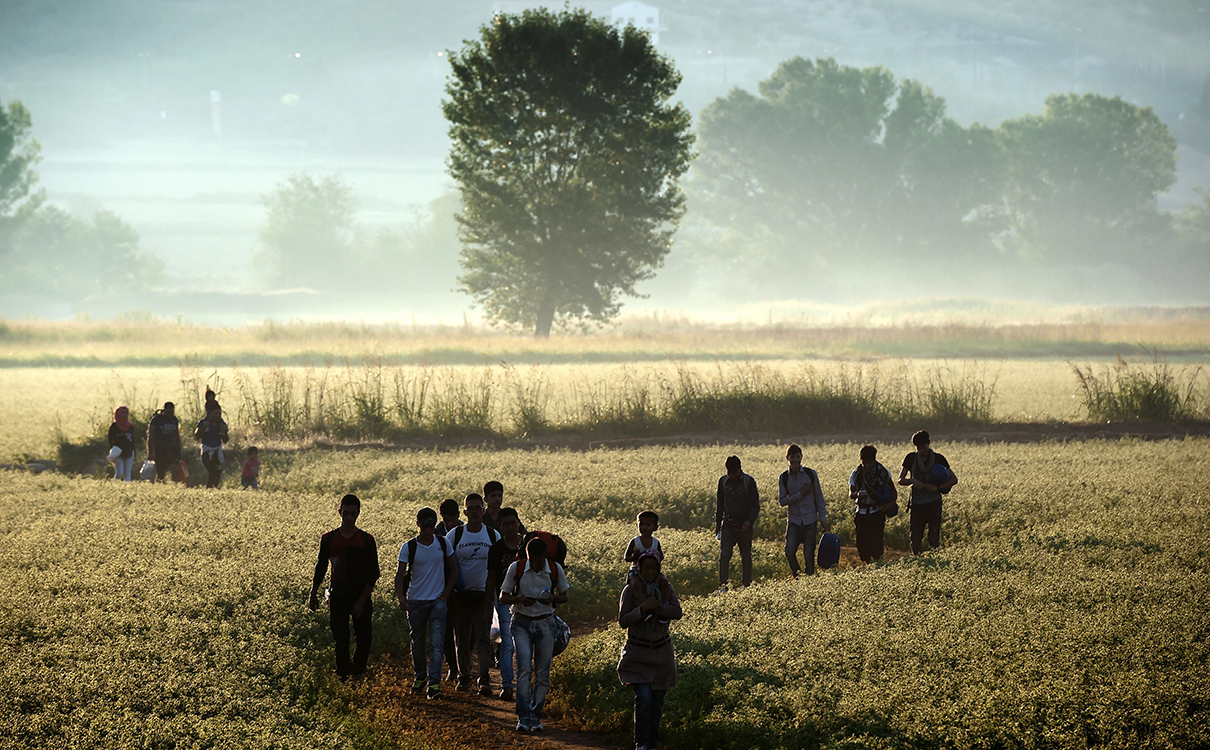 This turbulent week, which was covered in The Daily Edition, included the ongoing migrant and refugee crisis in Europe, the debate over the renaming of Mount McKinley, a new batch of Hillary Clinton emails and a Deflategate ruling that ended Tom Brady's NFL suspension. Read more about these topics and some of the other biggest stories of the week.
1. Smuggling refugees into Europe is a new growth industry – The Washington Post, Michael Birnbaum
Top line: "There is a service for every price point, ranging in the hundreds of dollars for a choppy below-deck voyage across the Mediterranean to thousands of dollars for longer, more complex journeys, law enforcement officials said. In a smartphone era, many of the smuggling services are available on Arabic-language Facebook and other social media sites. Migrants also communicate with one another along the journey using messaging tools such as WhatsApp to warn about where police coverage is heaviest."
Topic to follow: Immigration
Check out the bottom of this post to explore magazines covering the crisis.
2. Mt. McKinley to Denali: How A Mountain's Renaming Got Tied Up in Politics – NBC News, Jon Schuppe
Top line: "The move is rooted in Obama's 2008 campaign, when he promised to improve relations with Native Americans, a key Democratic constituency. Alaskan tribes have been advocating for a return to Denali for decades. But Ohioans — who helped deliver the presidency to Obama in 2008 and 2012 — pushed back, saying it would be an insult to McKinley's political legacy."
Topic to follow: Denali
3. Insights, and Redactions, in Latest Release of Hillary Clinton's Emails – The New York Times, Peter Baker and Michael S. Schmidt
Top line: "…4,368 documents totaling 7,121 pages, posted online Monday night by the State Department as part of a monthly disclosure ordered by a court after the revelation that Hillary Rodham Clinton had used a private email server while she was secretary of state. The department initially said it had redacted information from roughly 150 emails because they contained sensitive information, then reduced that estimate to 125…The emails underscore that Mrs. Clinton was acutely interested in remaining current on political developments and any reports of upheaval at the White House."
Topic to follow: Hillary Clinton
4. Jailed Kentucky clerk's attorney: Marriage licenses for gays void – The Chicago Tribune
Top line: "Kim Davis had refused to issue any marriage licenses rather than comply with the U.S. Supreme Court's ruling in June legalizing gay marriage nationwide. After ordering her to jail, the judge told her six deputy clerks that they too faced potential fines or jail time if they similarly refuse. All but one — the clerk's son, Nathan Davis — agreed to end her church-state standoff."
Topic to follow: Same-Sex Marriage
5. China announces massive troop cuts at WWII anniversary – Al Jazeera
Top line: "Chinese President Xi Jinping has pledged to cut 300,000 troops from its army, as the country commemorates the 70th anniversary of the end of World War II…The announcement could be seen as an attempt to soften the impact of Thursday's spectacle that saw 12,000 troops march through the centre of the Chinese capital. They were followed by ballistic missiles, tanks and armoured vehicles, many never seen in public before. Advanced fighter jets and bombers flew overhead in a highly-choreographed show that lasted around 90 minutes."
Topic to follow: China
6. NFL files an appeal of Deflategate decision that erased Tom Brady suspension – USA Today, Lorenzo Reyes and Rachel Axon
Top line: "A federal judge has ruled in favor of New England Patriots quarterback Tom Brady and the NFL Players Association in the Deflategate case, effectively vacating the Super Bowl MVP's four-game suspension…Brady is eligible to return to team activities immediately and to play in the season opening kickoff game against the Pittsburgh Steelers Sept. 10."
Topic to follow: Tom Brady
7. How to Buy a Slave Girl From ISIS – The Daily Beast, Mat Wolf
Top line: "The Yazidis, an ethno-religious group that mostly speaks Kurdish but observes a distinct faith that is neither Christian nor Muslim, are viewed as devil worshippers by ISIS, and therefore singled out by the jihadis in a campaign many say is genocide. Thousands of Yazidi women and children were sold as slaves and subject to rape, and their men were murdered en masse when ISIS overran the Yazidi heartland around Mount Sinjar in northwestern Iraq in August 2014."
Topic to follow: Islamic State (ISIS)
8. The Mothers of All Disasters – The Atlantic, David A. Graham
Top line: "Huge hurricanes could all but wash major cities away. Earthquakes on the West Coast and even in the center of the country could knock out power for months, make running water a distant memory, and deprive residents of the roofs over their heads. A deadly epidemic, such as the U.S. hasn't seen in 97 years, could take the lives of tens of thousands. A terrorist could unleash an improvised nuclear device in a major city, killing thousands—an event without historical precedent. The people who try to keep the nation ready for these doomsday scenarios call them the Maximums of Maximums, or the MOMs. You might call them the mothers of all disasters. The term comes from the Federal Emergency Management Agency, and for the feds, it generally includes a small universe of possibilities: a major hurricane, a major earthquake, or an improvised nuclear device."
Topic to follow: Natural Disasters
9. Is the world running out of space? – BBC, Rachel Nuwer
Top line: "New estimates issued by the United Nations in July predict that, by 2030, our current 7.3 billion will have increased to 8.4 billion. That figure will rise to 9.7 billion by 2050, and to a mind-boggling 11.2 billion by 2100."
Topic to follow: Population
10. Cats do not need their owners, scientists conclude – The Telegraph, Sarah Knapton
Top line: "Researchers at the University of Lincoln have concluded that cats, unlike dogs, do not need humans to feel protected, preferring to look after themselves."
Topic to follow: Cats
Read The Daily Edition throughout the week for your news updates and go in-depth on the latest immigration developments through Flipboard Magazines from The Washington Post, The Wall Street Journal, Doctors Without Borders and UNICEF.
New Exodus: A Global Surge in Migration by The Washington Post
Destination Europe: Migrant Stories by The Wall Street Journal
The Syrian Crisis by Doctors Without Borders
Syria: A Children's Crisis by UNICEF
~GabyS is reading "10 for Today"
GET FLIPBOARD ON:
iOS / ANDROID / WINDOWS / WEB
FOLLOW US ON:
FLIPBOARD / TWITTER / INSTAGRAM / FACEBOOK / GOOGLE+ / TUMBLR / YOUTUBE / SOUNDCLOUD / PINTEREST / MEDIUM