#FlipboardChat Summary: Understanding the Basics of Flipboard
MagMaker / March 18, 2015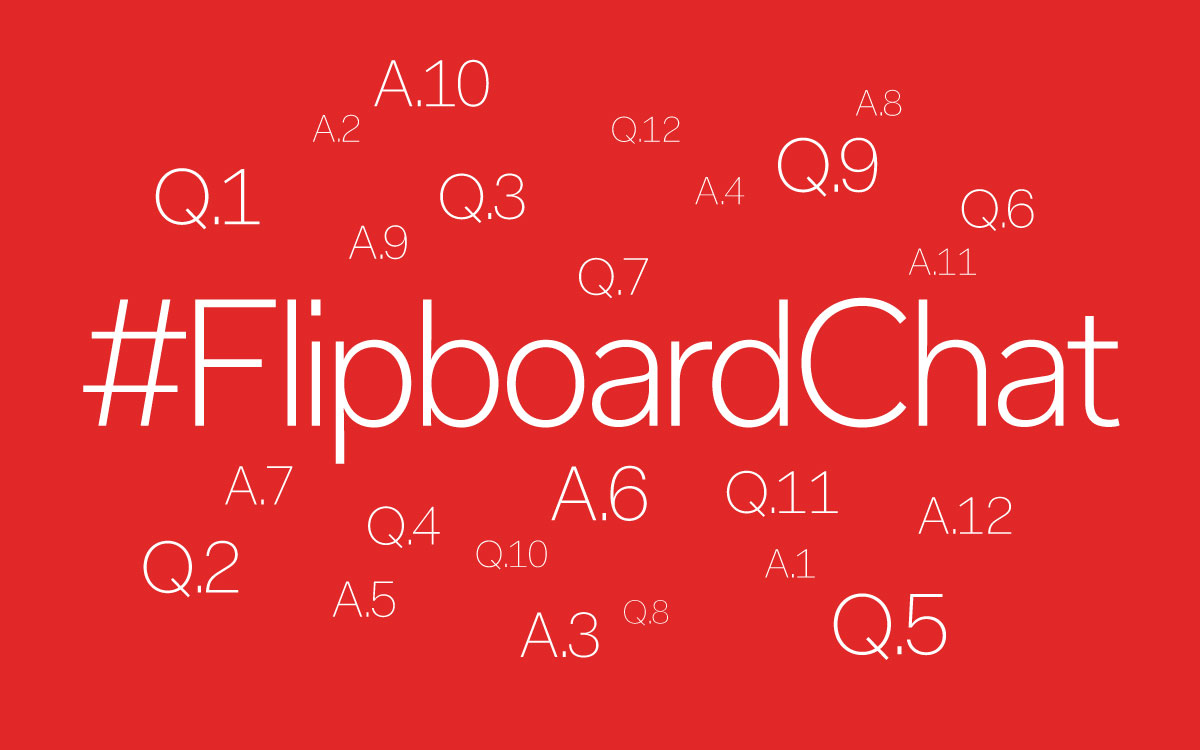 Every Wednesday evening, members of the Flipboard Club—an unofficial group of passionate evangelists—hold a Twitter chat about a Flipboard-centric topic. Last week they covered the basics of Flipboard, a great topic for anyone new to the platform. Highlights from the discussion are below.
Tonight's topic is "Using Flipboard Creatively for Learning." Join in the chat at 7pm PT / 10pm ET via the #FlipboardChat hashtag on Twitter. If the time zone doesn't work for you, join their Facebook group to stay in the loop or watch this space for notes from the conversation.
Q1. How long have you been curating Flipboard magazines?
Q2. What are your favorite topics on Flipboard 3.0 that you follow or curate from?
Q3. What is your best advice for someone curating a Flipboard magazine for the first time?
Search for your subject. There are a million chocolate mags. What makes yours different? Choose a focus!
Focus on topics that you're most passionate about so that you won't get bored and end up with stale magazines.
1) curate what you love 2) you don't have to do 100 flips in one sitting
Curate from quality sources and flip high-resolution images.
Go for it: don't worry too much about the cover, etc.You can go back and edit later.
Be your own person with it. Have fresh content and ask questions.
Relax, have fun and reach out and learn all you can about Flipboard as you curate.
Don't be afraid! If you have an idea, try it out. What's the worst that could happen?
Q4. How and where do you search for content for your Flipboard magazines?
Flipboard search! You can search topics, stories, social media accounts…
I curate photo mags so I am often searching for high-quality pics on 500px or Flickr and Instagram.
My fave sources: Digg, Huffington Post, news sites, Flipboard search bar, Flipboard featured articles.
I still use Google Alerts a lot. Twitter lists and Instagram hashtag searches are great too.
Search hashtags! You never know what goodies you'll find.
If it's an event-centered mag (SXSW, for example), I like to flip live Tweets from the event so I'll go search hashtags.
Another great thing about app search: what turns up refers you to related searches.
I have packed Feedly full of hundreds of feeds and browse hundreds of mags a day.
Q5. What have you found to be the most valuable thing about Flipboard Cover Stories?
Cover Stories lets me see what's happening in mags I wouldn't get to on a daily basis.
Surfaces superior content for me and displays my flips to my followers.
Reloads with new content often so it's always fresh.
Had a love-hate relationship with Cover Stories, then Flipboard for the Web happened! LOVE the bar w/ The Daily Edition.
Diversity on a range of topics.
I always find interesting stories that I don't necessarily follow. Always learning.
Q6. Why do you connect your social media accounts to your Flipboard account?
It's easy to favorite tweets and like posts.
One word: LISTS. Twitter lists. YouTube playlists. I could go on. So efficient for a magazine curator.
It just made everything so much easier, especially when it came to flipping straight from Twitter.
Q7. Do you prefer to curate Flipboard magazines on the Web or via the mobile app? Why?
Used to prefer curating mags on the Web with the bookmarklet (gold), now I love both. Strong reasons for each.
The mobile version makes it very easy to remove specific content.  Prefer mobile @Flipboard; very efficient.
Mobile works best for me. Everything is instant + spontaneous. I get on the Web when my feet touch the earth (home).
Definitely still use the app for images, videos, and social media posts.
I prefer the mobile environment with my iPad (flipping device of choice!) But Flipboard for the Web is awesome, too.
Mostly curate from the Web: easier to pick the image, but the app is so easy, especially flipping from topics.
Right now, I curate on the Web to use all of the PC real estate and then I check in the app.
Q8. How can a first-time magazine curator promote and share their Flipboard magazines?
Tweet your magazines every Friday with the hashtag #FlipboardFriday.
Start with the king, which is #FlipboardFriday, then Facebook, LinkedIN, Twitter, Google+…
Use the share button on the cover of your magazine like you mean it. Share your mags on social networks.
Share via social media, word of mouth; also on #FlipboardFriday and join the @FlipboardClub.
Don't forget to join the #FlipboardChat this week: the topic is "Using Flipboard Creatively for Learning." Start chatting on Twitter on March 18, 2015, at 7pm PT / 10pm ET, or come back to this blog for an update.
~MiaQ on behalf of the Flipboard Club
@flipboard
/flipboard
+flipboard