The Week in Review: Thaw in U.S.-Cuba Relations
Gabriella Schwarz / December 19, 2014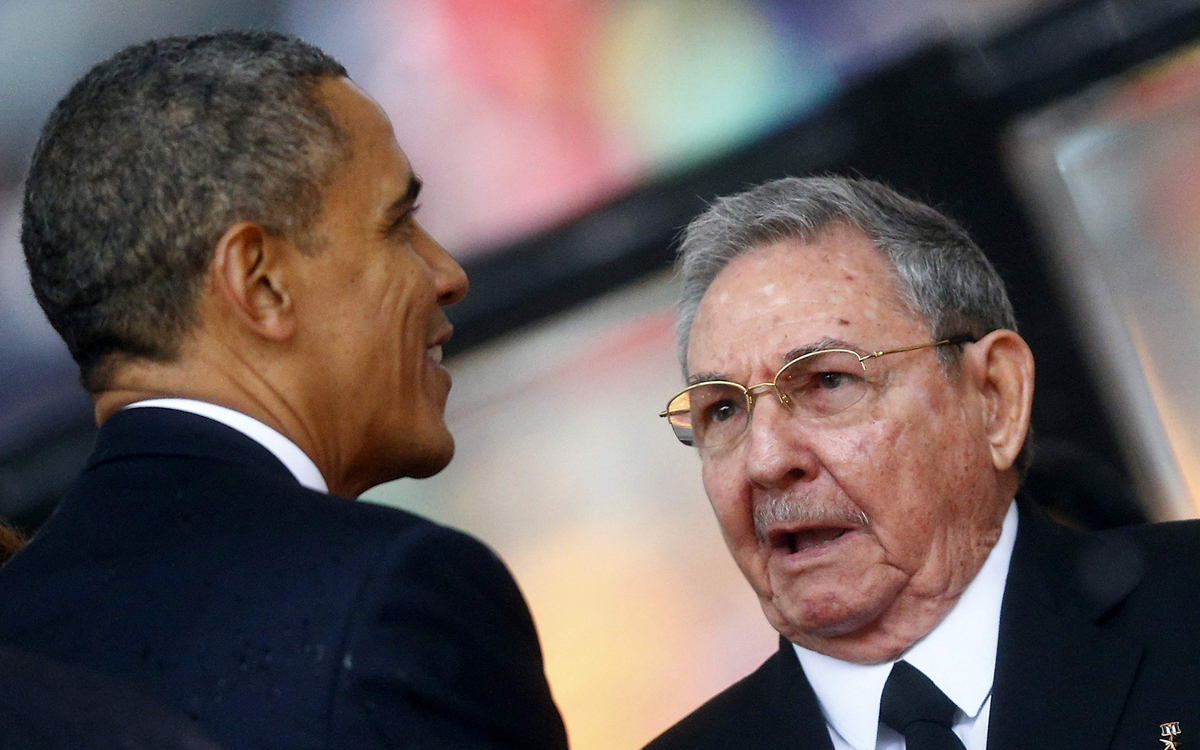 Ties between the United States and Cuba, severed more than 50 years ago, were restored this week after months of negotiations and a prisoner exchange.
U.S. President Barack Obama and Cuban President Raul Castro announced the agreement to repair diplomatic ties in simultaneous speeches on Wednesday after Alan Gross, an American imprisoned in Cuba for five years, returned to the U.S. and three jailed Cuban intelligence officers returned to their country.
President Obama said it was time for a new approach toward Cuba after years of isolation that stemmed from crises over spies and refugees, the Cuban missile crisis and deep political divides.
"Nobody represents American values better than the American people," Obama said. "I believe this contact will ultimately do more to empower the Cuban people."
The agreement, which Pope Francis helped broker, includes the reopening of the U.S. Embassy in Cuba, a review of Cuba's designation as a state sponsor of terror, the easing of travel restrictions and expanded economic ties between the two countries.
The move was met with mixed reactions on Capitol Hill, where some Republicans are hatching a plan to prevent the shift, including to deny embassy funds, stall the nomination of a potential ambassador and vote down legislation to open travel.
House Speaker John Boehner said, "Relations with the Castro regime should not be revisited, let alone normalized, until the Cuban people enjoy freedom—and not one second sooner." Republican Sen. Marco Rubio (FL), a Cuban-American, said he would do what he could to "unravel" the plan.
However, House Minority Leader Nancy Pelosi (D-CA) said, "We must acknowledge our policy towards Cuba is a relic of a bygone era that weakens our leadership in the Americas and has not advanced freedom and prosperity in Cuba."
Americans largely support diplomatic relations with Cuba, according to a Reuters/Ipsos poll conducted between July and October. One fifth of those surveyed said they did not support an opening in relations, while 43 percent said relations should be restored.
Follow the latest developments and learn more about Cuba as this shift unfolds.
CUBA by Brian Armitage: News and stories about and from Cuba.
Cuba ♥♥♥♥♥ by Maria Mercado: Explore Cuba through photos of the people, streets and views.
Punto de Mira: Cuba – EE.UU.: News and opinions around the historic announcement, in English and Spanish.
international relations by Greg Wilson: Follow the latest international news and jockeying.
In Retrospect: Todays World by swaggadigitalmagazine: The politics and events that affect our world.
President Obama by Eileen Clark: The presidency of Barack Obama through photos and statements.
~GabyS is reading HRH Royal Queen
/flipboard
@flipboard
+flipboard