The Week in Review: State of the Union Is 'Strong'
Gabriella Schwarz / January 23, 2015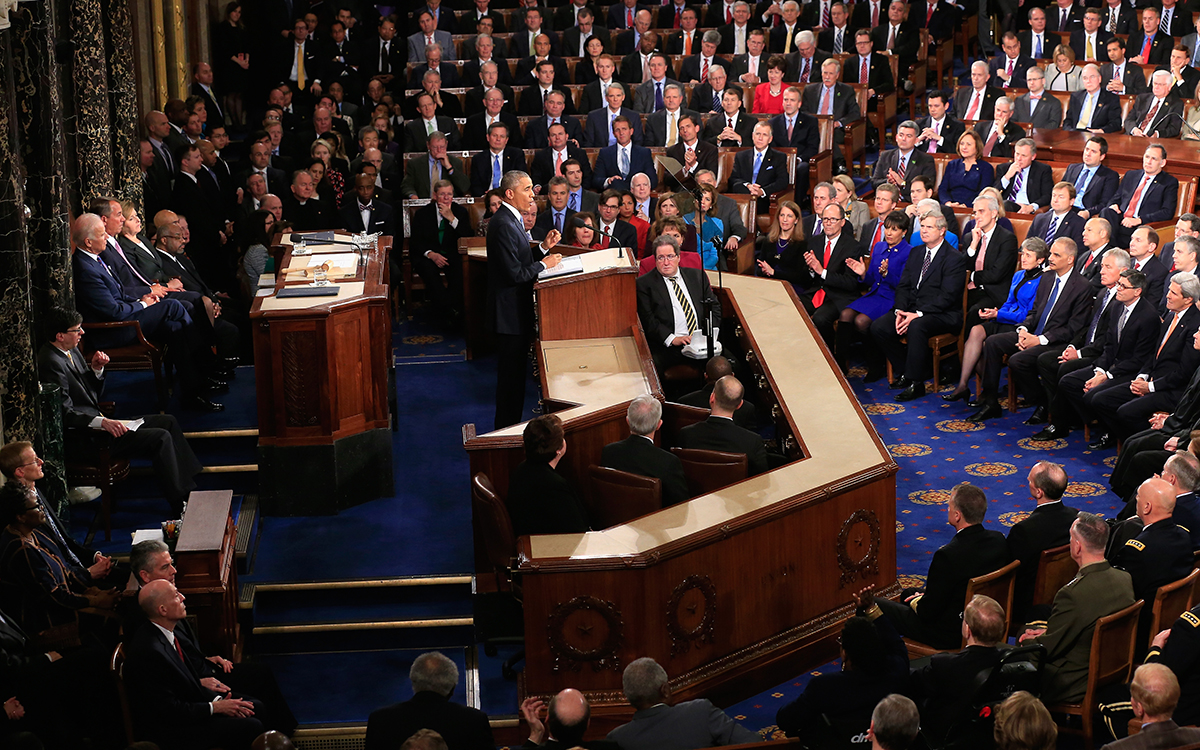 President Barack Obama delivered his State of the Union Tuesday night before a joint session of Congress, a tradition dating back to George Washington. For the seventh time in his presidency, he laid out his vision for the country, and for the first time in his presidency he described the state of our union as "strong."
"The shadow of crisis has passed, and the State of the Union is strong," Obama said. "At this moment—with a growing economy, shrinking deficits, bustling industry and booming energy production—we have risen from recession freer to write our own future than any other nation on Earth."
The second term president called on Congress to authorize the use of military force against ISIS and approve legislation to allow government and businesses to work together to prevent cyber attacks. He urged members to wait on new Iran sanctions while the nuclear negotiations unfold and asked for the authority to expedite free trade agreements.
Perhaps the biggest proposal was to raise taxes on financial institutions and the investments of wealthier Americans to pay for free college tuition and tax credits for childcare and two-worker households.
While Republicans welcomed some of the rhetoric, like on trade, they were largely opposed to the tax plan, which is unlikely to pass given the political reality of a Republican-controlled Senate and House.
Senate Majority Leader Mitch McConnell (R-KY) called the plan "another income redistribution effort."
"It all looks like the same old tax and spend that the president has been advocating for the last six years," McConnell said.
The over 6,000-word speech set up many of the issues Congress and Washington will tackle next, but the night also generated some lighter moments and reactions. One of the most buzzworthy exchanges came when the president went off-script to boast about his election wins. He also winked when talking about the improving economy, "This is good news, people," he said.
First Lady Michelle Obama's outfit, also worn by the character of Alicia Florrick on CBS's "The Good Wife," was made into a meme, as were the many faces of Vice President Joe Biden, who sat behind the president Tuesday night.
Read about serious and light moments of the big speech, plus the reaction and latest political news in made-for Flipboard magazines.
State of the Union by thenewsdesk: A roundup of the news and reactions from Obama's address.
U.S. Politics by Cory Hernandez: Who's up and who's down—the facts and opinions surrounding America's politics.
2016 by Cohl Media: Read about how the issues raised this week will play out in the 2016 race for the White House.
Higher Ed. by Gavin Newsom: California Lieutenant Governor Gavin Newsom's take on higher education, which the president is aiming to reform.
News & Politics by M. L. Johnson: Political news from red and blue states.
Cybersecurity: How safe are you? by CNN Money: The state of U.S. security on the web, an issue over which Republicans and Democrats appear likely to cooperate.
~GabyS is reading "Everything Seahawks! Superbowl Champions Edition"
/flipboard
@flipboard
+flipboard