The Week in Review: Jon Stewart Gets Ready to Exit
Gabriella Schwarz / February 13, 2015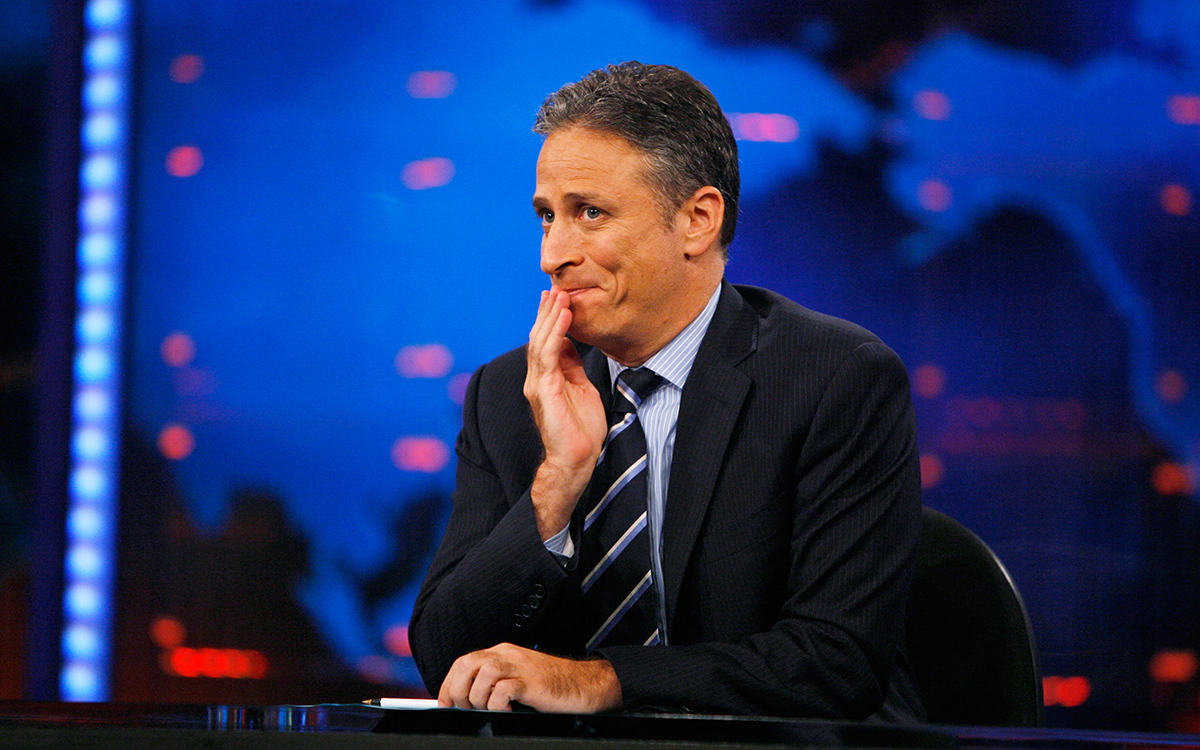 Jon Stewart, "the nation's satirist," as The New York Times described him, announced his departure from Comedy Central's "The Daily Show" on Tuesday night, after more than 16 years at its helm.
"I don't have any specific plans," Stewart said at the end of the February 10 show. "Got a lot of ideas. I got a lot of things in my head. I'm going to have dinner on a school night with my family, who I have heard from multiple sources are lovely people."
The show won 20 Emmy Awards during his tenure, averaged 2.2 million viewers a night last year, and launched the careers of many now-famous comedians, like Stephen Colbert, Steve Carell, John Oliver and Larry Wilmore.
Stewart became a source of news through his coverage of the biggest issues facing the country (and the world), and was voted the most trusted newscaster in America in a 2009 Time poll. His support of or opposition to issues often helped enact concrete change—for example, his persistant backing of a bill to aid 9/11 first responders suffering from chronic illnesses passed in 2010.
Perhaps some of his most memorable moments came from probing interviews with elected officials and leaders. Barack Obama became the first president to appear on "The Daily Show" in 2010. The comedian and actor contrasted the "Yes, we can" campaign slogan of the 2008 election and the president's public persona with the gridlock in Washington.
"You wouldn't say 'Yes, we can, with certain conditions,'" Stewart told Obama.
His series of questions to House Democratic leader Nancy Pelosi about corruption left her flustered and a back-and-forth over same-sex marriage with former Gov. Mike Huckabee, a Republican, ended famously with Stewart saying, "It feels like semantics is cold comfort when it comes to humanity."
His influence was felt across political parties, as evident by senators' reactions this week to the news of his departure.
"It's top two or three in terms of influence on public opinion—and with young people, he's probably No. 1," Sen. Charles Schumer (D-New York) told The New York Times.
Sen. Lindsey Graham (R-South Carolina) said, "When he gives me a hard time, I understand that I've arrived."
Stewart will lead the show until the end of the year, and while rumors are swirling about who will replace him, Comedy Central has yet to announce a decision. Use Flipboard to stay up on the changing of the guard and to explore comedy and satire.
The "Jon Stewart" and "The Daily Show" topics have the latest information on the transition.
Comedy Rag by Chris Martin: Follow happenings in the world of comedy.
Politics Is Satire by Chris Slane: Focused on satire surrounding the U.S. politcal system.
Nerd Humor by Tim Johnsen: Funnies for the "nerd."
The Open Mic Amateur Stand Up Comedian by Paul Merrifield: Videos and tips for the stand-up comic.
Check out "Comedy" for news about comedians and comedy shows.
~GabyS is reading the "Classical Music" topic
/flipboard
@flipboard
+flipboard