Shop Till You Drop: Cyber Monday on Flipboard
Inside Flipboard / December 2, 2013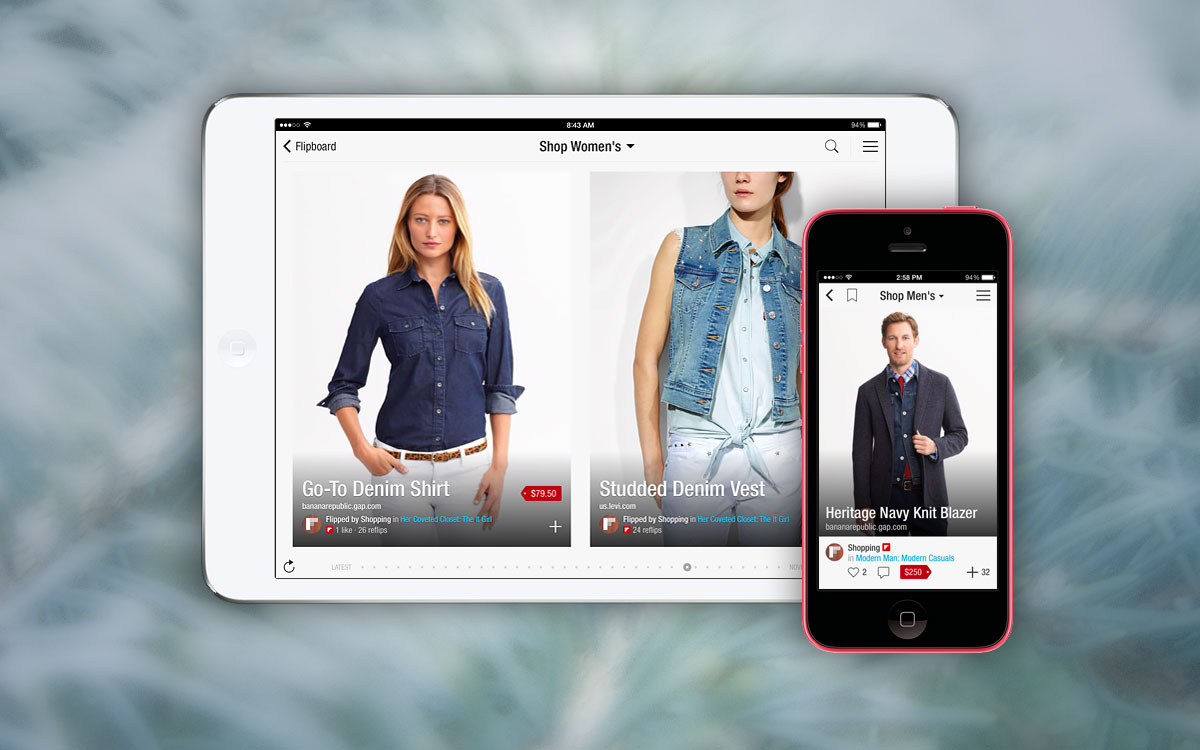 You could call us at Flipboard shopping-obsessed. Whether it's a tiny boutique in Seattle with the best vintage finds or custom Prada luggage on eBay or the smartest tents for your next camping trip, we are on it. Our shopping magazines are curated with new picks every day to show off the best clothes, electronics, home decor, skincare, food, cars, kids' stuff and more.
And we think that the most relaxing way to shop is from the comfort of a coffee shop or your couch while drinking a hot chocolate (spiking it with rum is your call). So in that spirit, we've created a few holiday gift guides perfect for all your shopping needs.
Shop Women's: After combing through Racked, Net-a-Porter, and the Isabel Marant x H&M collection, we've pretty much got any girl on any budget covered, whether it's Modcloth's glitter shorts for a New Years party or Nasty Gal's drool-worthy vintage Chanel earrings for your Xmas wish list.
Shop Men's: Whether you're looking for Supreme's Kate Moss tee on eBay or a Banana Republic velvet blazer for a Christmas party, we've got it. Limited edition sneakers? The softest cashmere scarves? The coolest T-shirts? All here.
Shop Kids: From award-winning toys to heartfelt books to the cutest threads, our children's gift section is a one-stop shop for children with personality and style.
Shop Home: On the holiday decor front, we have the prettiest ornaments for your tree, amazing handmade wreaths from Fab and Etsy's holiday garlands. Plus cheeky throw pillows, gorgeous vintage rugs and terrariums for your home.
Shop Outdoors: We've found the best bikes, the cutest galaxy print leggings for yoga and camping gear from stores that Racked rated as the tops for your outdoor needs. And if you need a tent designed to look like a sandwich, we have that, too.
Shop Electronics: Modern, high-tech and user-friendly electronic products for you and your home. From iRobot vacuums to Jawbone speakers, you'll be amazed by devices which incorporate high performance and smart design.
Shop Women's Beauty and Men's Grooming: We've scanned sites like Birchbox, Into the Gloss, and Refinery29 for their most obsessed-over finds, like Rodin's amazing (and so pretty) lip gloss to Tata Harper moisturizers. We've got the coolest nail polishes and lipsticks for holiday parties, too. And for guys, we've chosen the manliest beard oils and homemade soaps from Etsy and beyond.
Shop The Pantry: We've got everything from Breaking Bad cutting boards to signed copies of Gwyneth Paltrow's cookbook. Seasonal teas, the 2013's best cookbooks and food subscriptions (cheese from Cowgirl Creamery every month, anyone?) round out our holiday picks.
Shop Pets: The coolest handpicked items for your best friends ranging from ombré dog leashes to yurts for cats.
Gifts Under $50: Need a hostess gift? Stocking stuffer? Something for a coworker you picked in Secret Santa? All these gifts are not only reasonably priced, but genuinely cool, like Hello Kitty toasters, cat print leggings and The Big Bang Theory edition of Clue.
The Luxe List: For those boys and girls who've been very, very, VERY good this year, we've got gifts that are guaranteed to make a scene: the best espresso maker we could find, or a long ago sold-out Isabel Marant fur coat we scouted on eBay or an 18-karat gold watch from Jay Z's brand-new collab with Barneys.
We've got all this and more in the new Shopping category in the Content Guide.
And if you're in the mood for more cerebral musings on the state of shopping in this digital era, check out the first red couch panel hosted at Flipboard HQ in Palo Alto, CA. Flipboard Curator Mia Quagliarello moderates a discussion with Julia Bois, Global Digital Marketing Manager at Levi's; Erin Neer, Curator of The Future of Shopping Magazine on Flipboard; and Faisal Mirza, the Director of Internet Marketing Business Development at eBay. They discuss how mobile devices are changing shopping, how brands think about the different ways people and platforms interact with content, and trends for this holiday season.
~MarisaM, Shopping Curator
/flipboard
@flipboard
+flipboard