Publisher Spotlight: The Washington Post
Inside Flipboard / October 8, 2015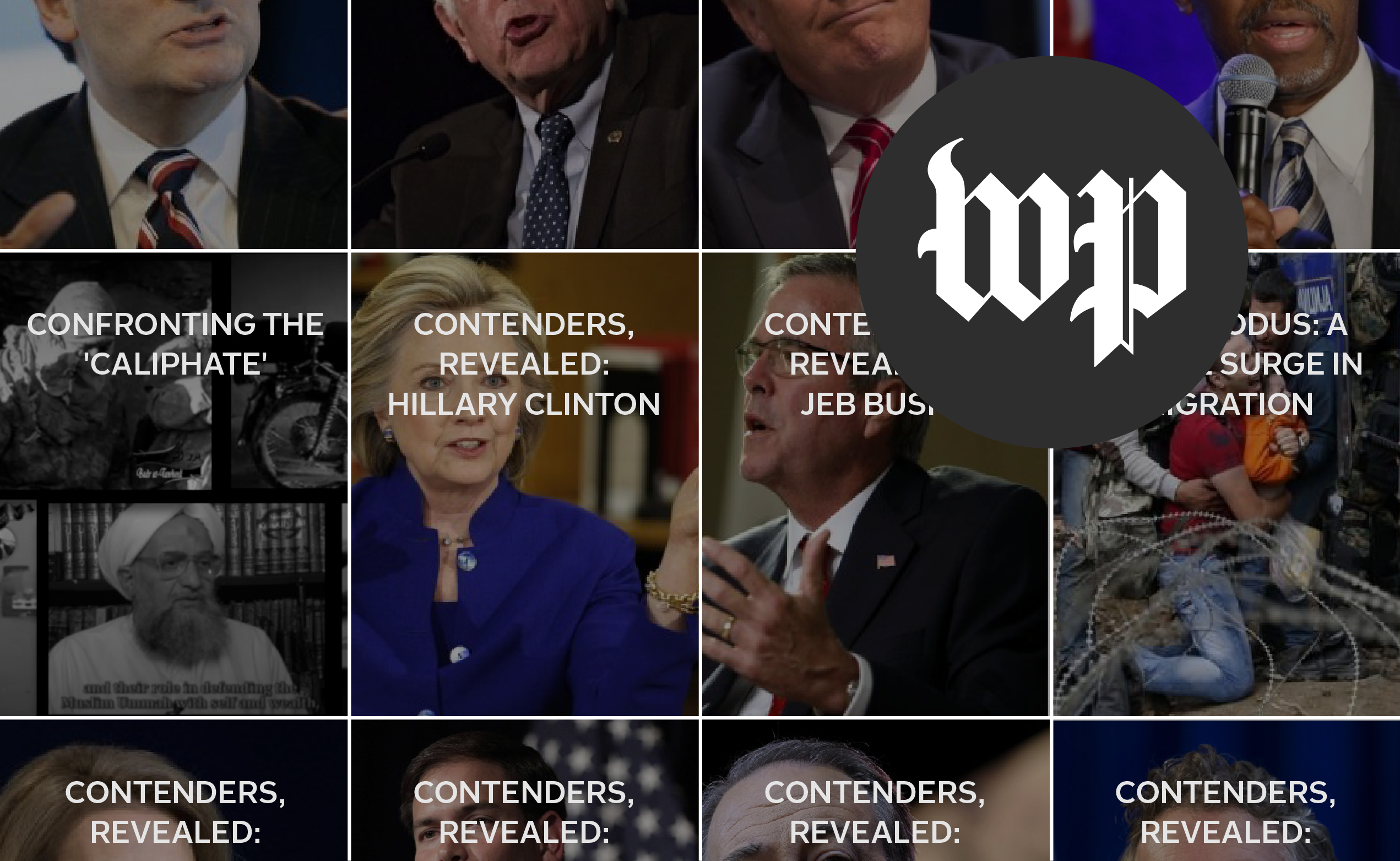 # of Flipboard Magazines: 19
# of Articles Flipped: 1,778
Most Read Magazine: "Contenders Revealed: Hillary Clinton"
Most Liked Articles: "What Jeb Bush meant when he said the U.S. 'should not have a multicultural society,'" "Trump plan calls for nationwide concealed carry and an end to gun bans," "A sarcastic Bernie Sanders live-tweets the GOP debate."
Interviewee: Politics Senior Editor Steven Ginsberg
What value do you hope readers gain from reading The Washington Post's Flipboard magazines on the presidential candidates?
Our goal in covering the presidential candidates is to reveal everything we can about them so Americans are as well informed as possible when they enter their voting booths. The Flipboard magazines are one of the most attractive and accessible ways to do this, while also putting our coverage in front of a new audience.
What have been the biggest challenges or opportunities associated with covering so many presidential candidates?
The biggest challenge is just trying to keep up with them. Some days, I feel more like a travel agent than a political editor. We've already covered campaign trips all over Europe and to Israel, Guatemala and Haiti.
All of which makes for some really awesome opportunities. Presidential campaigns are a unique lens into what's going on and with so many candidates we're getting a one-of-a-kind look at our country and the world. Donald Trump brings out a very different emotion — and America — than Ben Carson. Or Mike Huckabee. Or Bernie Sanders. Or Jeb Bush. All of them are fascinating and all are avenues to explore what America looks like in 2015 and 2016. As a journalist, these are the moments you live for.
Have you see a difference in campaign tactics used this cycle versus previous cycles?
Social media continues to transform how campaigns interact with the media and voters. If 2008 was the Facebook election and 2012 the Twitter revolution, my view is that 2016 will be defined by digital video. The phrase I've been using is visual and visceral — through Instagram, Periscope, Snapchat and others, we will be able to see and feel this election in a way unlike any other. Many of the campaigns realize this too and are experimenting with these new platforms.
Check out The Washington Post profile on Flipboard to learn more about the leading presidential candidates.
Contenders, Revealed: Hillary Clinton by The Washington Post
Contenders, Revealed: Donald Trump by The Washington Post
Contenders, Revealed: Bernie Sanders by The Washington Post
Contenders, Revealed: Carly Fiorina by The Washington Post
~GabyS and CarolynG are reading The Issues
GET FLIPBOARD ON:
iOS / ANDROID / WINDOWS / WEB
FOLLOW US ON:
FLIPBOARD / TWITTER / INSTAGRAM / FACEBOOK / GOOGLE+ / TUMBLR / YOUTUBE / SOUNDCLOUD / PINTEREST / MEDIUM