Publisher Spotlight: The Wall Street Journal
Gabriella Schwarz / August 20, 2015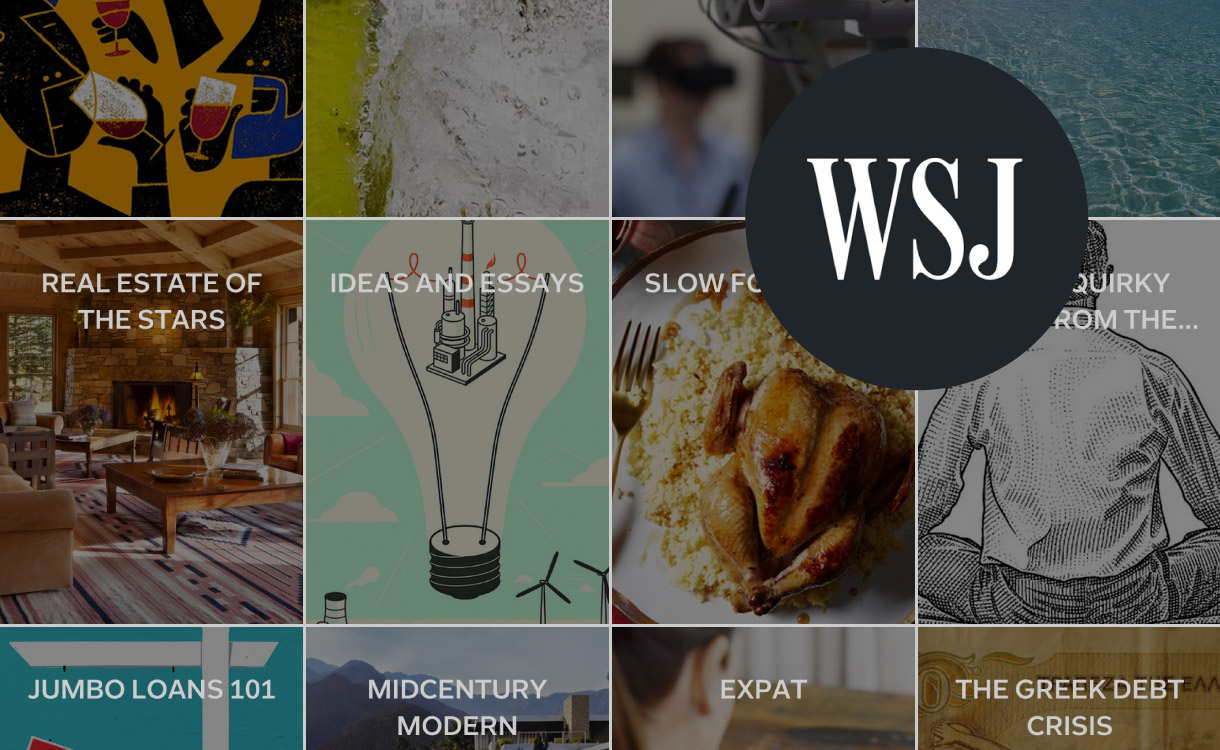 # of Flipboard Magazines: 15
# of articles flipped: 727
Best Magazine Titles: " Keywords: Ideas in tech" and "A-Hed: Quirky Reads From The Wall Street Journal"
Most Liked Articles: "Want Great Longevity and Health? It Takes a Village," "Why Children Need Chores" and "What the World Will Speak in 2115"
Interviewee: The audience development team (Carla Zanoni, Sarah Marshall, Gabby Stern, Kevin Sintumuang, Leigh Kamping-Carder and Annie Hill)
What do you hope to accomplish through your Flipboard Magazines?
The Wall Street Journal has been on Flipboard for a while, teaching us more about our reader's habits while allowing us to reach new audiences. The Flipboard Magazines we recently launched demonstrate the breadth and depth of our reporting.
For example, we've enjoyed making collections of articles around core topics, such as our analysis of the Greek debt crisis. We've brought together some of our popular columnists, from Yaroslav Trofimov on the Middle East to our weekly tech column Keywords, from Christopher Mims, and have been archiving content around themes, particularly visual features on design (like midcentury modern).
We've also published a Flipboard Magazine that shows the quirkier side of WSJ. Known as the A-Hed, the column has appeared on the front page of The Wall Street Journal since 1941.
As the media landscape has changed, how has your consumption of information changed?
The team who worked on this project is a diverse team that has a variety of experiences and reading habits within the newsroom. The audience development department, led by executive emerging media editor Carla Zanoni, spearheaded the initiative with social media editor Sarah Marshall managing the project. Editors Gabby Stern, Kevin Sintumuang, Leigh Kamping-Carder and Annie Hill curated the magazines. That's what has made this collaborative initiative so exciting, as we are all able to contribute different perspectives on what we believe our readers want to read.
Can you take us through the Journal's editorial process, from a story idea to its publishing?
One incredible thing about the Journal is the sheer breadth and depth of coverage. Like any other news organization, there's a process whereby reporters pitch stories or news breaks and they respond.
Having a network of reporters on each continent (49 bureaus worldwide), plus a process of commissioning editors who encourage the stories that are less frequently told, we report from places that are out of reach for most news outlets.
The following example, written by a duo on the ground in Chad and Nigeria (Michael M. Phillips and Drew Hinshaw), has one of the strongest opening lines to a story so far this year: "Falling prices of cows and the rising cost of diapers in Chad have turned the tide in neighboring Nigeria's six-year war with Boko Haram."
Tap here to explore any of the 14 Wall Street Journal magazines ranging from real estate to wine and read some of our favorites below.
~GabyS & CarolynG are reading "Expat"
FOLLOW US ON:
FLIPBOARD / TWITTER / INSTAGRAM / FACEBOOK / GOOGLE+ / TUMBLR / YOUTUBE / SOUNDCLOUD / PINTEREST / MEDIUM