On the Red Couch with Nieman Journalism Lab's Joshua Benton
Inside Flipboard / July 23, 2014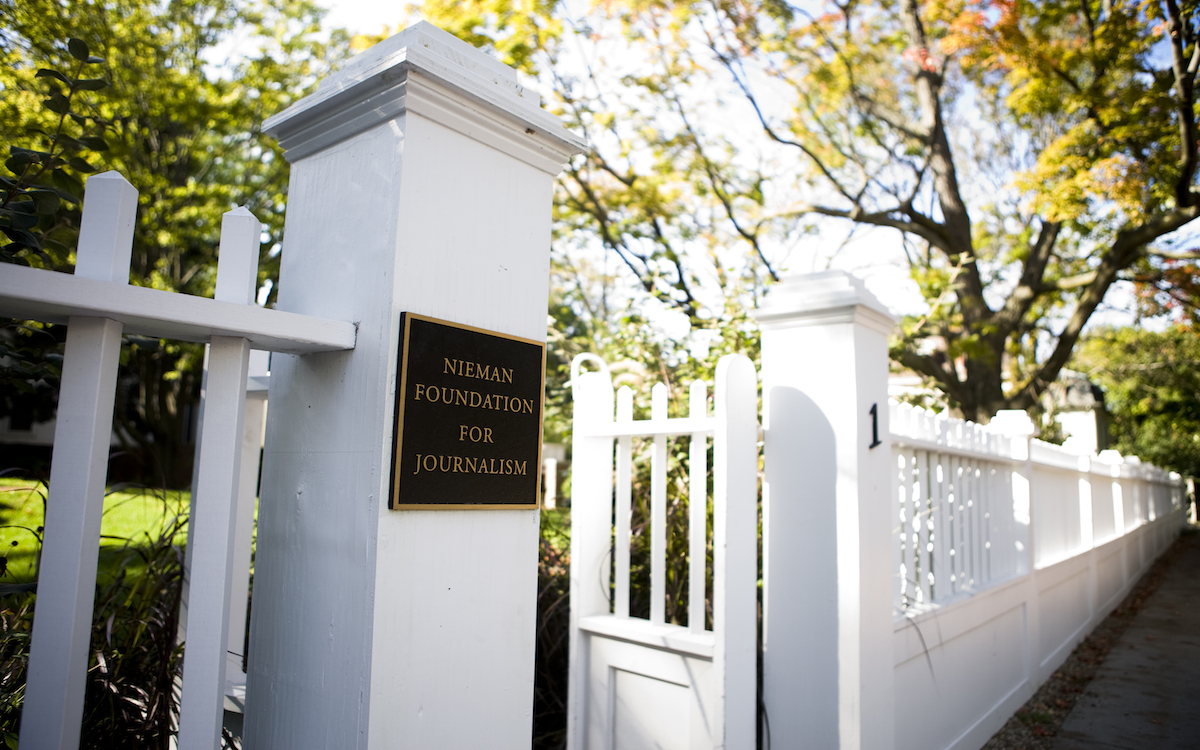 For over twenty years, Nieman Journalism Lab director Joshua Benton has kept a close watch on the intersection of journalism and technology. Originally from Louisiana, Benton built websites in college for beer money while serving as editor of his school paper. After graduation, he was a full-time reporter for the Dallas Morning News and Toledo Blade, where he tried his hand at several beats: investigative reporting, foreign correspondence and even rock criticism.
Unlike some of his peers, Benton's long believed that the web can deliver better journalism. In an effort to study that claim, he founded the Nieman Lab at Harvard to "help journalism figure out its future." We spoke with him about how things are shaping up:
As the editorial director for a site that essentially reports on reporting, how do you determine what's interesting to a cross-section of people?
Nieman Lab is part of Harvard, and we have an academic mandate in addition to an audience mandate. There are no ads on Nieman Lab, so we don't have to gin up page-views.
We consider our beat to be innovation in journalism—that could be innovation in reporting, distributing, how news gets discovered, shared, or paid for. An ideal story identifies someone interesting who has an interesting idea, and is trying to execute it. The story then tries to understand the "thing" behind it in ways that others might be able to learn from it.
From an economics perspective, I think innovation is said to be most useful when it delivers more value for less money. Do you see that happening in journalism?
I remember a time before the internet! (Laughs) Growing up in a small town in south Louisiana, my sources of news were extraordinarily limited.
It's worth stepping back and seeing how much better it is now. It's uncomfortable in some cases, but it's leaps and bounds ahead of whatever we would have thought was possible 20 or 30 years ago.
Online distribution is a big part of how you reach an audience. It's no longer geographic: it's tied to interests, social networks, discovery platforms that are quite different from what was there before. That's meant that it requires a different set of skills.
That's one reason why someone like Flipboard can be a disruptive force because you allow stories to reach audiences on a different platform, using a different visual paradigm that a lot of people like.
A brand like The New York Times has a respected legacy. How can new media communicate that kind of trust to readers in a short amount of time?
One thing the web made very clear was that the artificial feeling we used to have about "getting it all" or "reading it all" was a lie. When a newspaper comes in one package and you can get to the end of it, you have this sense that, "I've seen the news today! I'm done."
The web made it clear that you were never done, that there were lots of things that you didn't have access to. Part of it is figuring out ways to surface the content you're producing that best connects with the audience member that you're trying to reach.
What about your own media habits? What entices you to want to read something? Is there an underlying logic?
A lot of people who would have been reading a print product 20 years ago are probably now reading Facebook newsfeeds or reading things that are not news by the traditional definition. You don't read news to understand everything in the universe because that's impossible.
Jay Hamilton's All the News That's Fit to Sell says there are four basic types of information: producer information, consumer information, entertainment information, and civic or voter information.
He points out that all those types get a direct return on their investment of time. If you learn more stuff, you'll make more money, or make a better buying decision, or be entertained. The return is a lot more nuanced. He suggests that you need to find ways to include information in that fourth category into those first three categories for certain kinds of people.
Do you find yourself watching TV with a laptop or a tablet next to you? Are you easily distracted?
(Laughs) Who is alive in 2014 with a broadband connection who isn't easily distracted? I'll wait for the commercials to see what everyone on my specially-created "Watching Football" Twitter list is saying.
I don't think I'm punishing myself. I want to see what other people think about that terrible pass, or whether there was something I didn't understand. It's why watching a game in a sports bar can be an enjoyable experience because you're getting the direct experience, but you're also getting the feeling of being part of a community of people who are engaged in the same act that you are.
Sometimes social media presents news without context. Where does curation fit into all of this?
A newspaper was both a creator of content and the curator. [Editors] decided what were the important stories.
Increasingly, those two jobs are separated. In part that's because the content producers have missed the opportunity to also be the content filters. If you're a media producer, you view it as a financial incentive to get as much consumption of your content as possible. That's left bloggers and folks like Gawker and Buzzfeed and social media to take on the curatorial role, which is really, really valuable. A lot of journalists get hung up on the idea that they're leeches, attaching themselves to other content, and on a certain level—that's true. But you can beat the game.
That's how news organizations viewed their role: if you were an editor, you very much considered it your job to say, "Here are a thousand things. I'm going to pick six things that should be on the front of tomorrow's paper." That's part of the job.
Do you think that writing or creating original content is sustainable? What kind of advice do you give to young, writerly types?
If you buy into the model of how businesses get disrupted, it's that folks come in at the bottom end, do stuff that looks really cheap or low-quality, but over time they use technical advantages to move up market and do better stuff, to increase quality, and supplant the incumbents.
I'm of the belief that you'll see sites that start off producing lists of cat pictures and then evolve into having a newsroom with two hundred people in it, to writing big, long-form investigations, and you see that in lots of places already.
People also have to have some reason to go to your site on a regular basis, or open your app, or click on a link. You need that angle—get out of the voice of God, and talk to people like they're human.
To see journalism "thrive and survice in the Internet age," look no further than the Nieman Journalism Lab: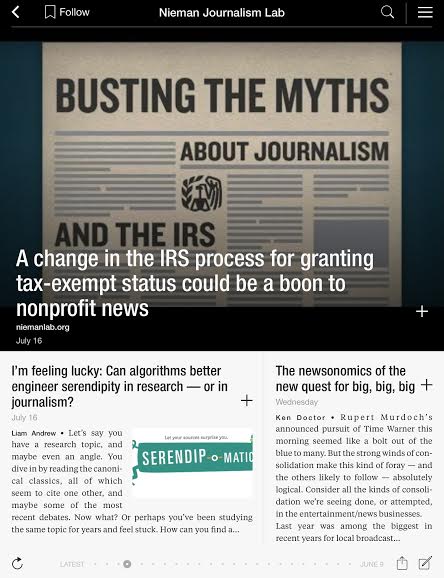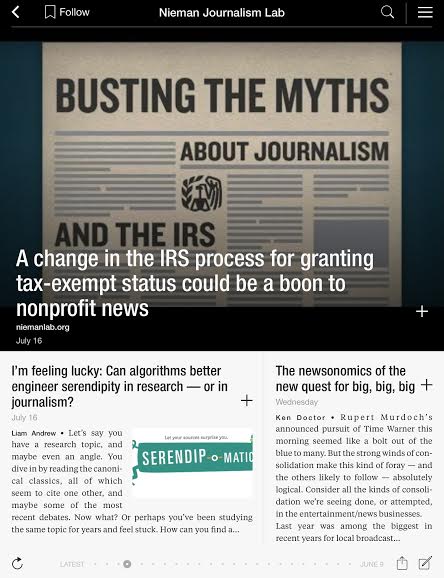 ~ShonaS is curating "Kitchen Confidential"
/flipboard
@flipboard
+flipboard