On the Red Couch with New York Times Digital Editor Shreeya Sinha
Inside Flipboard / February 18, 2015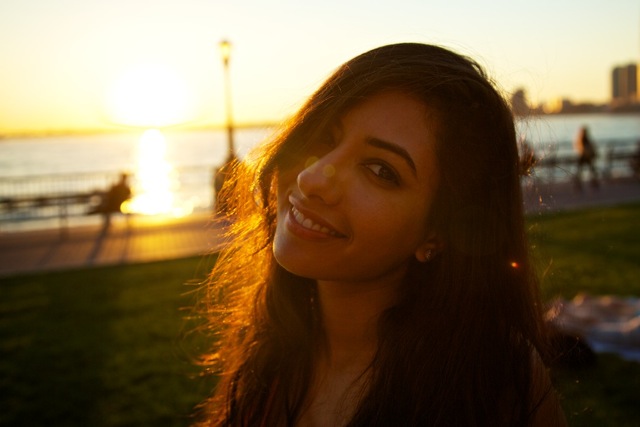 What motivates a journalist? For Shreeya Sinha, it was the desire to bring context and narrative to current events. While majoring in international relations at Brandeis University, Sinha went to the West Bank to study the socio-economic impact of the Middle East conflict. Turning toward the war's human faces—the neighboring Israelis and Palestinians—Sinha saw journalism as a way to bridge divides, and share a different side of the story.
After receiving her masters degree in journalism from Columbia, she earned her chops at CNN, MediaStorm and the Asia Society, establishing herself as a journalist well-versed in new media. Today she's a Senior Digital Editor at the international desk of The New York Times. Both reporting and producing multimedia projects, Sinha takes the "digital" component of her title seriously, looking for new platforms—such as Flipboard— to expand the Times' editorial vision. We spoke with her about how one of the world's most respected newspapers is moving forward.
You've gone into dangerous territory as a reporter. What makes it worth it?
I wasn't scared in those situations. I weighed the risk factors and sought guidance from experienced journalists who were my professors. In certain cases—like reporting on violence against women in India for MediaStorm—I was able to find a personal level of empathy for these women and gain intimate access to their lives and experiences because I myself am an Indian woman. I'm not a war correspondent, so I think what I've done isn't nearly as risky as what many reporters put themselves through every day to bring us the news.
Journalists today often talk directly to readers via social media. Does that affect your reporting?
I want to tell stories about what makes people tick. How can we tell the story of gang members or women abused in India so that someone, say, in New York will take notice? Social media lets me reach people in all corners of the world.
At The Times, I've been experimenting with how to engage with our readers. For example, we put a callout to the Indian diaspora to share their thoughts on [Narendra] Modi, the Indian Prime Minister, and his upcoming visit to the U.S. We asked a set of questions, and got more than 1,700 responses, some of which got incorporated into my reporting and the rest featured alongside the article.
The conversation is no longer one-way like in the print days of journalism. Now in this changing digital media landscape, the conversation is two-way: What do readers need to know? And what do they care about that we should think about addressing? We also need to keep experimenting with our content on third-party platforms that have different audiences, such as Flipboard. I've built magazines on Putin, ISIS and Modi that have been pretty successful.
I imagine you're on your smartphone pretty regularly. Do you rely on social media for things like finding sources?
Yeah, 100%, I rely on it for finding news and to reach people regularly. Smartphones have also changed the way journalism is done.
For example, as reporters were filing stories on the crash of Malaysia Airlines Flight 17, I began gathering profiles of the victims using information on social media, reporters' feeds, and a successful reader call­out that provided leads for reporters.
But doesn't that pose a risk? How do you ensure reliability?
You have to analyze what people are saying and who is saying it. Is it one voice in isolation or is it part of a continuous stream? Rumors on Twitter can get picked up pretty rapidly. What's remarkable is that Twitter is self-correcting: users will refute or verify information. But social media does not replace shoe-leather reporting and fact-checking, it just speeds up that process by helping you focus your scope.
The other thing I do is to check individual's bios online. Are they claiming to be a witness to an event though they live in separate country? I also look at past tweets: are they a journalist? Are they citizens? Do they have a bias that needs to be accounted for?
There's also direct contact through tweets and DMs. People on Twitter are very open to sharing. I try and do forensics on where the information is coming from, which is a transparent operation on Twitter.
The Times is very clear that we want to be accurate before we want to be first.
Do you think your average citizen is concerned with where they get their information?
There are two things that will happen: The Times will get better at understanding and reaching audiences, and new players will continue to improve their quality of journalism. What The Times already has is a legacy and reputation of high-quality journalism that people have come to expect from us. We will continue to experiment with new technologies and grow our audience. Our mission is to produce the best journalism and make it shine everywhere. I have to believe that good journalism will push out subpar journalism. Take a look at our foreign correspondence. At a time when many newspapers are shutting down their bureaus, we're ramping ours up. We have more than 75 correspondents across 30 international bureaus. That's proof of our investment.
~ShonaS is curating "Lettered"
@flipboard
/flipboard
+flipboard