On the Red Couch with Lonely Planet Travel Writers
Shona Sanzgiri / October 7, 2015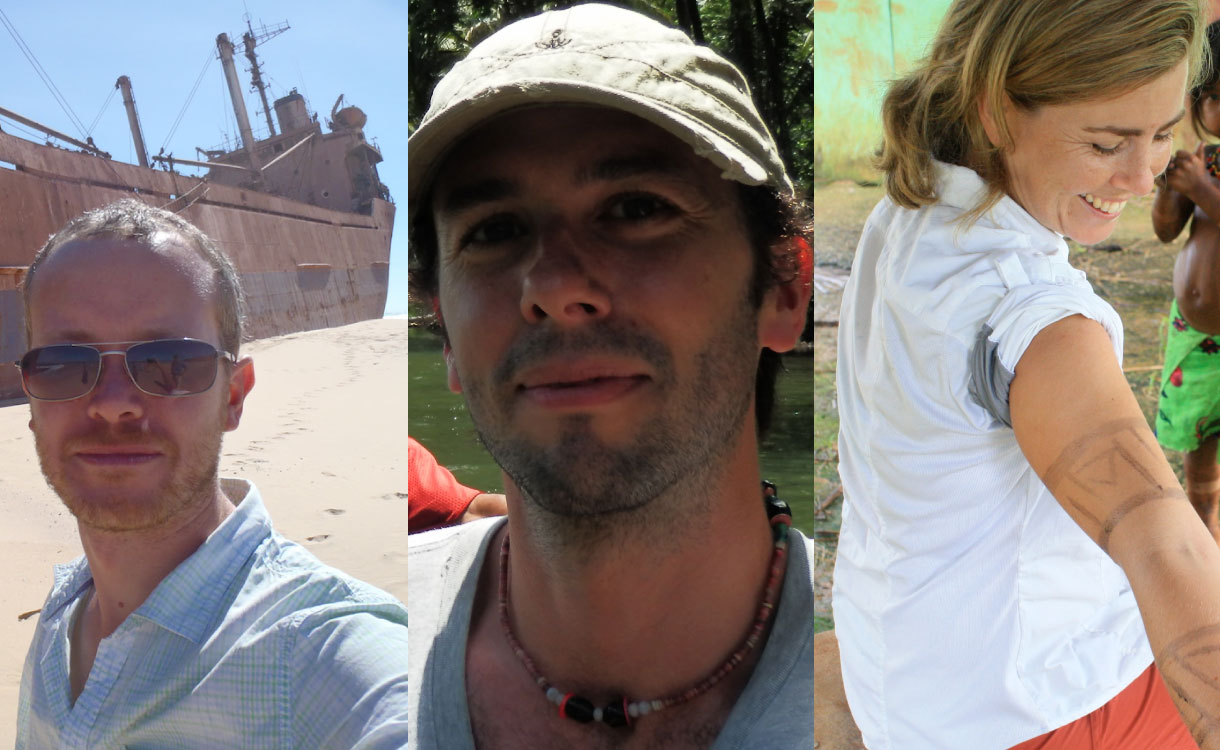 Being a travel writer sounds mighty glamorous: basically you're paid to live abroad, enjoy new cultures and document all your exotic experiences, right? The short answer is "sort of"; the long answer is a little more complicated.

For perspective, we asked professional travel writers from Lonely Planet, one of Flipboard's favorite guides for exploring the world, to clear any misconceptions. Dispatched to far-flung places like Patagonia, Marrakech or Jakarta, these roving journalists aren't on holiday—they're at work. And they've got spotty wi-fi, shifting cultural norms and sometimes even civil unrest to grapple with.
Luckily the writers we spoke to—Regis St. Louis, Carolyn McCarthy and Paul Clammer—had plenty of good things to say. Read on, and check out more from Lonely Planet on Flipboard:
What's the most useful piece of travel advice you've learned?
Paul Clammer: Talk to strangers! Seriously—travel is a great opportunity to do all the things you're not meant to do at home, so embrace it!
Regis St. Louis: Don't be shy when you're travelling. Engage people, not just when asking for directions, but getting tips on what's around the corner. Don't travel in a bubble. This will help you find not only great local insight, but it will enrich your experience. The best travel memories I have aren't from ticking off famous museums or cathedrals, it's from meeting locals—and sharing meals with them, staying in their homes and learning about their lives.
Short of having serendipitous encounters, you can also use social networks to tap into interesting communities on the road. For instance in Rio, there are groups of active folks who meet for hikes and photos. In many places, there are free organized tours offered by locals. Even in NYC, we have such a service (Big Apple Greeter Program where a local shows you around his or her neighborhood).
Carolyn McCarthy: Just go. The details will work themselves out, so don't hesitate.
Has traveling for work changed the way you travel for fun?
CM: Travel writing has made me less focused on famous destinations and more likely to seek out the unexpected. These experiences tend to be the most rewarding.
I am also better at scoping out hotels and restaurants—are the locks good? Is the restaurant clean? Don't rush making a choice; hotels usually don't mind if you see a room before committing.
Locals can be a great resource on where to eat or drink or what to visit. When you meet a local in your travels, ask them for their favorites.
PC: People travel for fun? Without having to review hotels? There's a novel concept! I think that travel writing professionally has made me want to slow down more. Guidebook research is full of very long and busy days, so if I'm on holiday I really appreciate the ability to spend an afternoon in a street cafe people watching or wander aimlessly through the backstreets with no purpose to mind.
RSL: It's difficult to turn off the travel writing machinery whirring in my head. It's hard for me to stop in a cafe and simply have a cup of coffee. I'll want to study the menu, find out what makes this place unique, study the clientele, the decor, the music, and really focus on the details—which can make it hard to relax and simply 'be' in a place. In that sense, though it's made me a much better observer.
Who are some of your favorite travel writers, and why?
RSL: One of my favorite writers is Cees Nooteboom (who wrote Nomad's Hotel, a remarkable work of travel literature). He goes to fascinating places—often forgotten places like Gambia, remote parts of Ireland, a midsize town in Australia, Munich, Mali. He meets interesting characters; explores place through history, literature and art; and walks in the steps of other famous people who've gone before him. Often he'll zoom in on one tiny facet of a place and end up elucidating something profound, something universal about the human experience.
When I go to a new place, I often look for the best fiction writers of a particular country. A gifted novelist can give us a deeply enriching understanding of a destination. Someone like Jorge Amado for Brazil, Gabriel Garcia Marquez for Colombia, Halldor Laxness for Iceland. The characters may be fictitious but they portray an authentic and more complex side of a country—something that's difficult to capture in travel writing. And the sense of place is deeply imbedded in the story.
CM: I love how Pico Iyer delves into the psychological aspect of travel, what it does for you and how it alters your perception. I'm also addicted to historically-based adventure stories, like Endurance: Shackleton's Incredible Voyage to Antarctica.
PC: There's a book called The Road To Oxiana, written in the 1930s by an English guy called Robert Byron. It's about his travels around Iran and Afghanistan looking at Islamic architecture. I've probably just made that sound very boring, but it's beautifully written and insightful, and he's got a very dry sense of humor when he makes little sketches of the people he meets. My copy is very battered from being carried in a rucksack to all the places he goes to, but it's fair to say that without Robert Byron I'd probably never have travelled very far at all, either personally or professionally.
Let's say you have a limited budget of $2000. Where would you go and what would you do?
CM: So many options! I recently spent about that month rafting the Grand Canyon on a private trip for 24 days. We were a group of 16 people ranging from children to retired couples. Since it was DIY, we supplied the boats and paid the permits, organized our own food, etc. Sleeping in the canyon for three weeks and moving at the pace of water can make you a new person.
But there are plenty of options for that amount of money. Fly to Panama for two weeks and you can see gorgeous beaches, visit indigenous cultures, take in the sophistication of the capital, and some amazing tropical wildlife.
PC: Does that include the flight? I've actually seen very little of the U.S.A., so I'd probably try to do as much of a road-trip as possible. I'd pick New Orleans as my starting point, and see how far I could eat my way from there.
RSL: Since an airline ticket might eat up a fair bit of that budget (and ever mindful of my not particularly small carbon footprint), I would look at my options nearby.
Since I'm always trying to improve my French, I'd head up to Quebec for a two-week journey. I'd spend a few days in Montreal taking in the markets, bike-riding along the Lachine Canal (and elsewhere around town) and browsing vintage shops and record stores in the Plateau. Montreal is a creative city, and I've always found its dual cultures (Franco/Anglo) endlessly fascinating. Afterwards, I'd take a roadtrip through the Eastern Townships, with its pretty countryside and sleepy villages, and make my way to Quebec City to delve into history (this architectural beauty is over 400 years old). Next, I'd focus on Quebec's great outdoors, heading to the Saguenay River fjord, where you can see whales and take some fantastic hikes along the cliffs. If time allowed, I'd squeeze in a trip to the Gaspé Peninsula, where you can find some of Canada's most striking scenery—mountain ranges, lakes and pristine valleys where caribou still roam.
Which places surprised you the most?
PC: I've been able to travel in a lot of countries people might otherwise think about avoiding: Afghanistan, Haiti, Nigeria and so on. The thing that always refreshes me about places like this is that away from the media headlines they're basically just the same as anywhere else, full of people trying to get on, with the same concerns as anywhere else—thinking about their kids, how they earn a living and so on. That's very reassuring in a way. The country's problems are singular of course, but people are the same the world over. After that, it's about making a human connection.
RSL: Often when we think of travel, we conjure up exotic notions—palm-fringed beaches, European museums, foreign languages. We don't think of what's right in our backyard.
But I've had some of my most memorable and surprising trips in the U.S. On a journey around the south, I came across the Crooked Road, a district in the Southwest of Virginia that's famous for its live music venues. Every Friday night, the Floyd Country Store hosts a show with fiddlers and banjo players. It's a fun and unpretentious affair. Young people who like they just climbed down from their tractors arrive with their dance shoes under their arms for a night of clogging. Add to this the beautiful scenery nearby—rolling mountains and forests—and you have the makings of a memorable road trip.
CM: When I first went to Chile I was working as a hiking guide, and it astonished me how people could live a self-sufficient pioneer lifestyle in remote valleys of Patagonia, while cities a few hours away would have all the modern amenities.
Travel tends to surprise us, and I think that's one of its virtues. I was also surprised by the ease of travel in El Salvador, when I had been mostly warned about the dangers, and also by the richness of the cultures and wildlife in Panama.
How do you evoke a sense of place or an experience when you're essentially a tourist?
PC: Get off the bus! What I mean is, if you go to Morocco, then you're probably going to want to do a camel ride in the Sahara. Which is great, it's a really fun thing to do, but it probably won't tell you a lot about how Morocco is to live in today. But a conversation with the guide about your families might, or breaking the Ramadan fast with him. Even guidebooks can't really create those shared experiences, but they often to end up as your favorite memories of a place.
CM: I think tourists or travelers are natural observers. When everything is so different from your norm, you notice it all more acutely. Then I think the key to capturing the place is through interactions with the locals. Their assumptions or attitudes teach you everything about a place.
RSL: Read up on a place before you go, try to make some contacts ahead of time—social networks are great for this. Even if you don't want to couchsurf, couchsurfing communities often host meetups in cities around the globe. Try things like EatWith, allowing you to dine in a local's home, or do an Airbnb stay (renting a room rather than a whole apartment).
The more informed you are about a destination (using local resources, talking to people, etc), the more professional your research and writing will be.
The trick is not to be a tourist.
Each of LP's writers have compiled their favorite songs and photos from life on the road in one magazine. Read it, and the rest of Lonely Planet's magazines, on Flipboard:
~ShonaS is reading Travel Writers
GET FLIPBOARD ON:
FOLLOW US ON:
FLIPBOARD / TWITTER / INSTAGRAM / FACEBOOK / GOOGLE+ /TUMBLR /YOUTUBE / SOUNDCLOUD / PINTEREST / MEDIUM