On the Red Couch with Details Style Director Eugene Tong
Inside Flipboard / September 10, 2014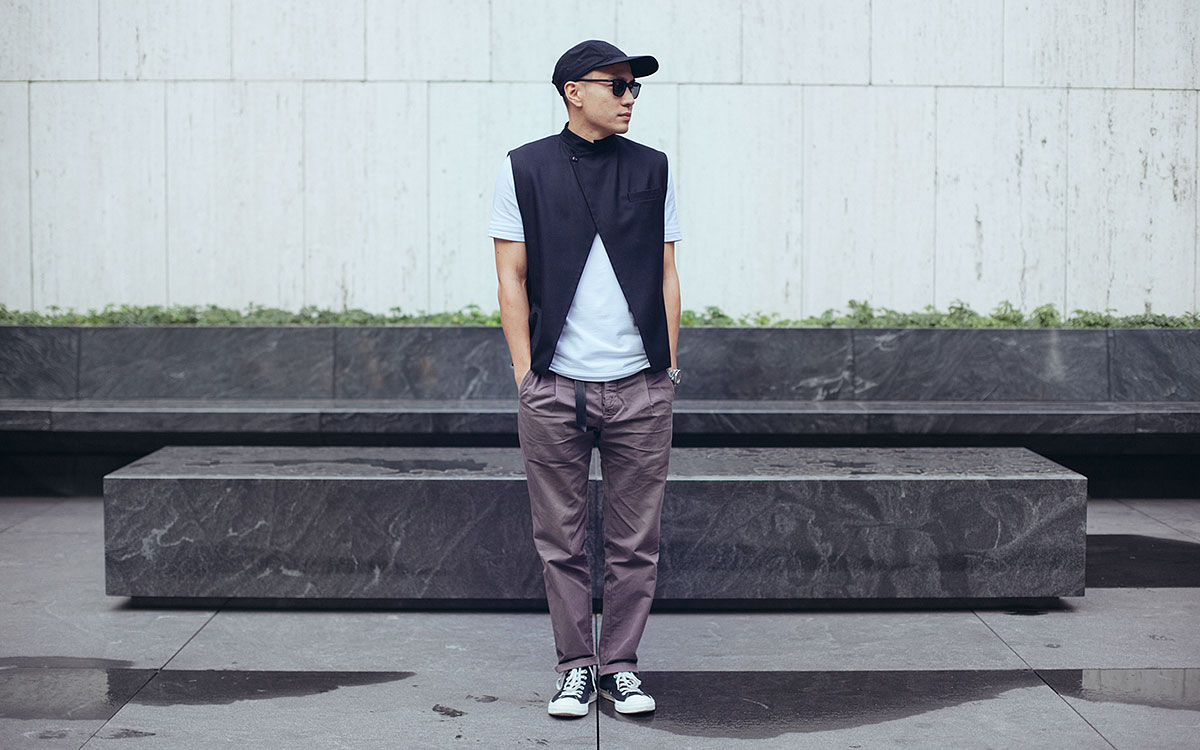 The term "men's fashion" sounds like an oxymoron. A simple button-up and a pair of jeans is sufficient for most guys, right? In theory, menswear revels in uniformity: a "look" must be simple, consistent and without the slightest air of effort.
That tripartite description also fits Eugene Tong, Style Director at Details magazine. Hardworking, humble and confident, Tong is a study in the casually cool: he's the guy to set and get trends precisely because he rejects them in favor of his intuition.
With so much discussion about the "science of creativity," we wanted to know if there was a "science to style"—and who better to ask than the Most Stylish Man in Media?
As a style director for a men's magazine, how do you approach Fashion Week?
It's really about a schedule. I'm not one of those editors who plans their outfits. Being in New York, I'm operating from my home base. When you're in Europe, you're just there for the shows. In New York, you're going back to your apartment or office instead of having free time in between shows to grab a coffee. New York Fashion Week is more chaotic because you're still living your real life.
What is your role during the shows? Are you there to report?
I don't do any writing. I do only fashion direction and styling for the magazine. The main purpose of presence is to gather next season's ideas. After you go to London, Florence, Milan, Paris and New York, you can gauge what's happening next season. We take those ideas and put together a few months worth of issues. Everything from there trickles down to the masses, but we get a sneak peek first.
There's been a conceptual shift in menswear. Men's style is casual and athletic; a few years ago it was "heritage" or "prep" or "Americana." Now it's reminiscent of late 90s streetwear: T-shirts, hoodies, stuff that's edgier, but neutral and still masculine. How would you summarize the trend going on today?
The trend now is "elevated basics." People in the industry like to group things together, and I think a lot of things that are categorized as "streetwear" are not actually streetwear. It's like when certain brands got grouped into the urban category even though some of them had different aesthetics.
Men's fashion now is definitely about going back to basics. But there will always be designers doing the opposite. Fashion has become a big business, so these brands that need to take that into account need to make commercially viable products to drive these businesses. That's where you're seeing these luxe versions of very basic things.
I think it's also a reflection of the way the world is now. Fashion is expensive. You have to view things as investment pieces. Rather than buy super trendy jackets or silhouettes, you can upgrade your basic sweatshirt or sweatpants or sneakers and get invested in fashion—things that are done in much more luxurious fabrics or they're cut better.
I've seen photos of you from The Sartorialist or Tommy Ton, and you've been—to your credit—very consistent in your style, which is now the latest look: classic, clean, a bit of hip-hop mixed with high fashion. I'm wondering if you're concerned with trends or if you even care about how you're perceived.
I'm 34 years old now, and as an adult you get to this place where you're comfortable. I don't chase trends; I'm not wearing the latest stuff. I wear what works for me. I don't let myself be pigeonholed into categories. I like to mix all different things.
I think too many people let trends dominate their thoughts, and they don't think about whether that trend applies to them. I've remained constant because I don't try to do anything that I'm not. It's great if people take my pictures. But I could also care less.
Of course, I know I'm very fortunate. I see everything from the get-go, and I'm able to distill that. But what works for me is very different from what works for my readers, so I have to switch hats when I'm doing stuff for the magazine.
Who is the typical Details reader?
An urban professional who has a lot of disposable income to spend on clothes. He's really attuned to what's going on. He may not know the specifics, but I don't need to educate him on wearing navy suits with brown shoes or things like that. I can just say, "This is this season's most important trends for you." There's service mixed with education, but they have the base knowledge. I'm never gonna have to justify the amount of money they need to spend; it doesn't faze them. It's the guy you want to be, the lifestyle that you want—the guy at the party that everyone wants to talk to.
Your job is hard to come by. Do you have advice for someone who's 22 or 23 and hates their post-grad office job and wants to follow your path?
I tell incoming assistants that our industry doesn't hire a new class every year. It's not Goldman Sachs. Everyone in my position got there through internships. Go to a magazine stand, look at all the magazines you love, and get an internship.
Don't be above anything. I did everything above and beyond what I was asked. I never left work until my boss did. I never took vacation. I'm an extreme, but you have to show them that you want it, and that you're willing to do whatever it takes.
That's lost now because of the internet. The younger generation—this is a cliché—has a sense of entitlement that things should just happen for them. I busted my ass. Be prepared to make a ton of sacrifices.
It's not the most lucrative industry, either. I do OK, but for years, I had friends in banking or other industries who were making a lot more money than me. The difference was that I am happy going to work everyday. I have no problems with Mondays.
Does the role ever drag on you?
Oh, yeah. People see only the glamorous shit. I get invited to a lot of great things and get access to cool stuff, but all that fun stuff is 10% of the job. I have the same office politics, the same kind of boss, but I'm in a more public industry.
I mean: When you have to go to parties because it's work, it's work. We're not partying all the time. I have a really strict rule of not drinking at work-related functions. You don't wanna be that guy who's being talked about the next morning.
What's the absolute best part of being a style director?
Being able to represent the magazine and the United States as a whole at Fashion Week. Only the top editors-in-chief get to go, and I'm fortunate to be able to go as well. I still get hyped. I'm not sitting a desk staring at a screen.
I find it irritating when other editors complain. People get jaded. When you think about it, I get paid to go to Europe. That's not bad, dude. My friends will talk about where we're traveling for work. I'll say, "London and Florence and Paris," and they'll say, "Oh. I'm going to Orlando."
So to put in perspective: I'm super fucking lucky and it's all pretty great.
Flip through Details—the go-to magazine for young sophisticates—on Flipboard:


~ShonaS is curating "Engineered Garments"
/flipboard
@flipboard
+flipboard