On the Red Couch with Betsy Morgan from The Blaze
Inside Flipboard / July 26, 2013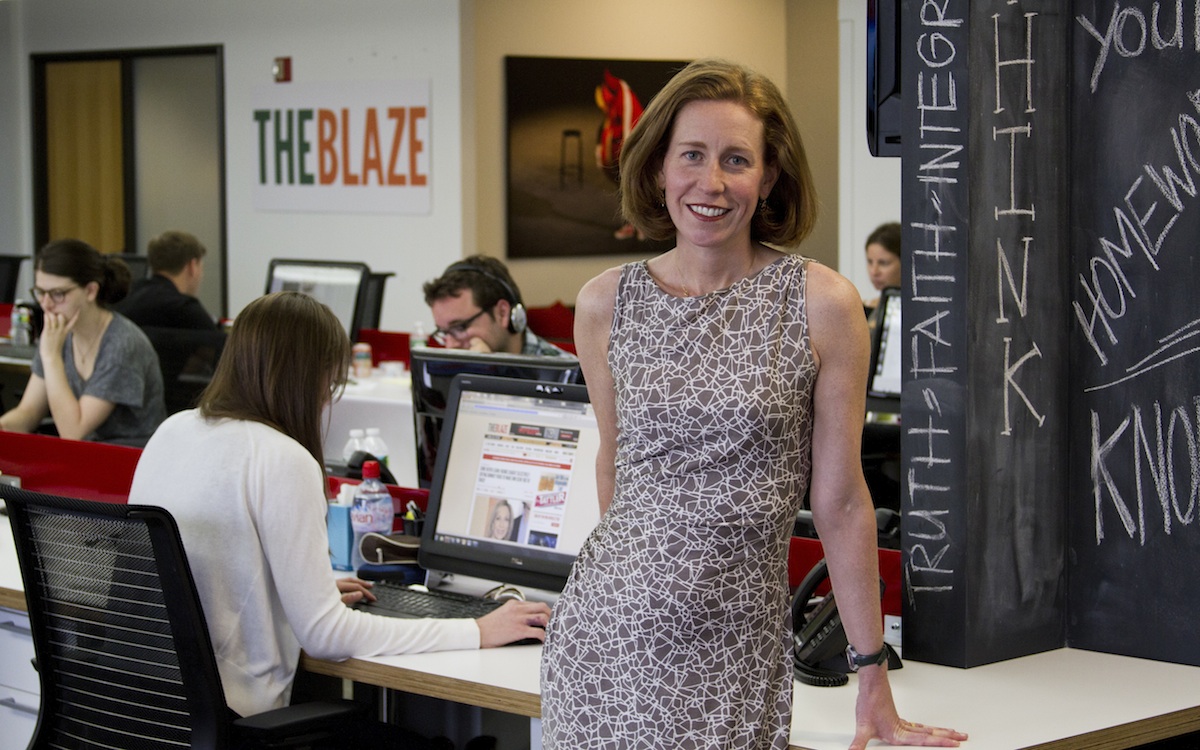 Before she was bitten by the journalism bug, Betsy Morgan spent her time working in the financial sector. After graduating from Harvard Business School, she worked as an analyst at the Federal Reserve Bank in Boston and tried her hand at investment banking. She hated it. Instead, she was more interested in media.
She combined her business background and passion for news to launch a career that has taken her to management roles at several different news operations during intense periods like 9/11, presidential elections and the Iraq and Afghan wars.
After a brief stint at News Corp., Morgan landed at CBS News and worked her way up to run the company"s digital news operation. Her friends were bewildered when Morgan left CBS News (and her staff of 120) to join a small startup—the newly launched Huffington Post—which was then a 30-person team founded by Arianna Huffington.
Morgan's career path took another surprising twist when the Colby College communications major left one of the internet's most popular left-leaning news organizations for a new, right-leaning site called The Blaze, which was founded by conservative radio host and TV personality Glenn Beck.
We spoke to Morgan about her diverse background in journalism, the rise of opinionated news, and The Blaze, which launched on Flipboard earlier this month.
What did you see in the early days of The Huffington Post that made you decide to leave a more traditional news organization?
I saw that journalism was changing. New brands were emerging, and they were highly relevant to the audiences they reached because they were unapologetic about taking a clear stand on things.
The HuffPo was one of the first news organizations to put a stake in the ground by saying, "This is what we believe. We can have a dialogue about it, but we're not going to debate the merits of global warming." The audience craved that kind of voice, and they responded to it—but the mainstream media wasn't delivering it.
Your move to The Blaze also had some people scratching their heads. You were running the Huffington Post, yet you decided join a new site on the other side of the spectrum—politically and socially. Why did you make the jump?
HuffPo had a voice that was authentic and unapologetic. I saw a similar opportunity when I first met Glenn Beck in the fall of 2010.
The Blaze represents the heartland. It represents Main Street more than Wall Street. It emphasizes the middle of the country rather than the coasts. Glenn believed The Blaze was offering something unique for an audience that is enormously underserved in the marketplace —and that's something I've come to believe as well.
Is having this kind of biased approach, left or right, healthy for our news diet?
It's about a lot more than political ideology. People are looking for media brands where they feel affinity and alignment with their personal values. There are so many choices now that it's absolutely overwhelming for an average consumer to find a news brand that feels like it represents them. That's why I think HuffPo has done well, why Fox News has done well and why The Blaze will do well.
You've worked with two very polarizing figures, Glenn Beck and Arianna Huffington. What are some of the differences in working with the two?
That's been really fun; to see the two different—yet very successful—approaches both have taken.
At HuffPo, Arianna held the title of editor-in-chief from the very first day . She still holds it, along with various other titles at AOL. It was very important for her to be very involved in setting up the site's editorial agenda, and still to this day I can look at the HuffPo front page and know why certain things are there. Her fingerprints are still on it.
The Blaze is the opposite. At The Blaze, Glenn didn't want his name on the front of the blog, he didn't want to be editor-in-chief, and he didn't want to have an editorial role with the website. As a fire-starter and popular public figure, he's certainly been able to raise awareness of the brand, but he reads that website everyday like anyone else—as a consumer. That's been fascinating and fun to watch.
What role does community play in building up a new news organization?
People often confuse "community" with the subset of people who comment on a given article. But it's more than that. Community is the sense that there is a group of like-minded people who share a set of values. That's enormously important, because that's what creates brand-affiliation.
Where mainstream media has fallen out favor—with the possible exception of The New York Times—it's because of the lack of competition they've faced. Mainstream media tends to think that all of America is their audience. Yet once you're all things to everybody, you're sort of nothing to anybody.
How do the newsrooms of legacy media companies differ from today's news startups?
It's night and day. The three teams that matter in any media business are tech, edit and sales. In mainstream media, those three groups sit on different floors, if not in different buildings. At the HuffPo, they all sat together.
It's the same at The Blaze. Everyone succeeds together and fails together. It isn't always a perfect system; we disagree and fight as much as we agree, and the issues we need to solve are complicated. But from an organizational standpoint, it's essential that we all work it out together.
You used to oversee a team of 120 people at CBS, and you headed a smaller team of 30 at the HuffPo. At The Blaze, you came in with four people working. What it's like to start small?
There's something great about starting from scratch. It's great to build something with a small, agile team that isn't afraid to fail—because from mistakes you get success. At a big media organization, steering the ship is really, really hard. If you're in a legacy media organization company, you worry everyday about about losing your readers, viewers or listeners.
That fear of loss is what is overwhelming, and it cripples innovation. But when you have no audience, all you have is upside. You have lots of audience to gain.
It's a super-exciting time in the media marketplace. I look at all the news we're not covering, and to me, it just feels like a world of opportunity.
Tap the badge below to open The Blaze on Flipboard.

Click
here
to read The Blaze on Flipboard.
~NajibA
/flipboard
@flipboard
+flipboard