On the Red Couch with Ambassador Melanne Verveer
Gabriella Schwarz / June 10, 2015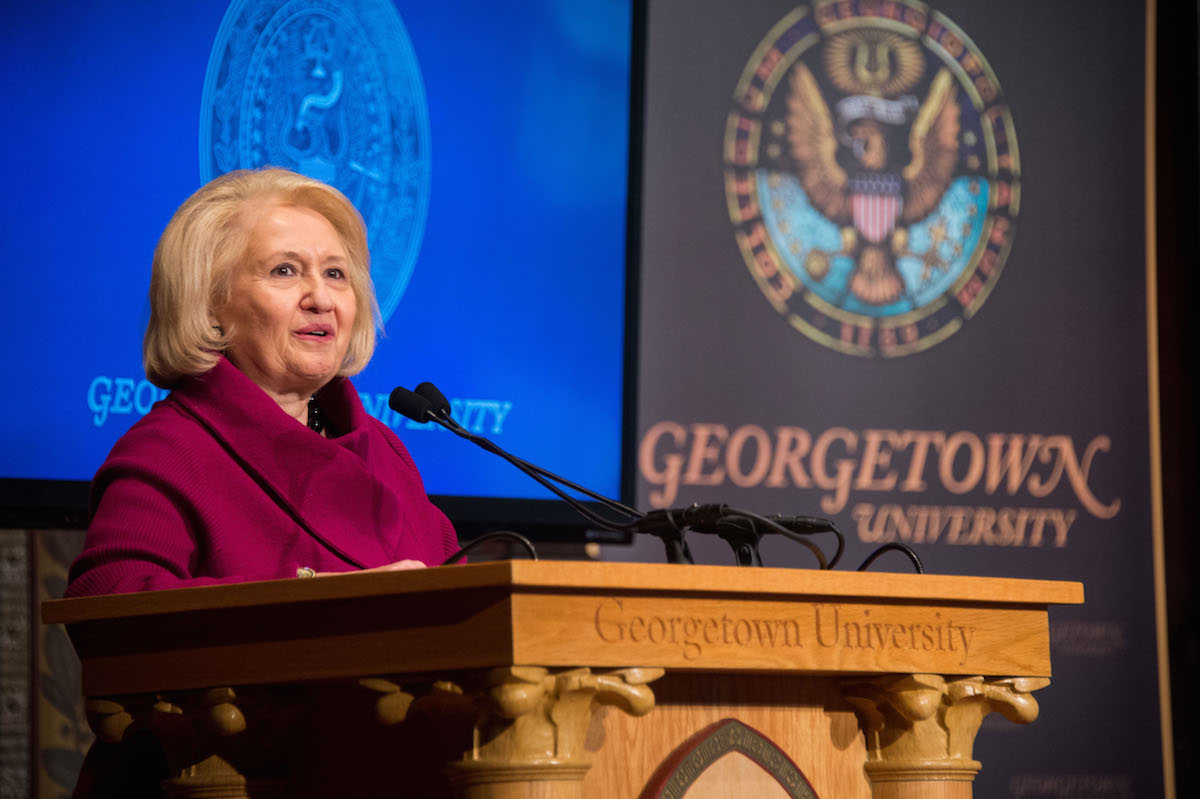 Amb. Melanne Verveer has spent more than 20 years fighting for women's equality, in the White House during the Bill Clinton administration, as the CEO of an international NGO, as the first U.S. Ambassador for Global Women's Issues under President Barack Obama and now as the Executive Director of Georgetown University's Institute for Women, Peace and Security. The Institute's Flipboard Magazine, "Women, Peace and Security," examines the state of women around the world and the most pressing issues they face. We spoke to Amb. Verveer about the biggest barriers for women, what inspires her and her use of Flipboard.
Women's equality and empowerment have been such big focuses for you during your career. What started you on that path?
In terms of women's equality in particular, I think that reached its full blossoming when I started to work with Hillary Clinton when she was first lady. One of the seminal moments was 20 years ago when I was in Beijing with her for the fourth U.N. World Conference on Women—seeing the reaction to what her keynote represented and the fact that she brought her voice to the struggles of so many who were working on these human rights issues, often at great risk to their lives. I think I certainly realized, and I'm sure she felt the same way, that this is a really important space for her as first lady of the United States, to be able to have the kind of efficacious impact that would help people who are working so hard on these issues. I think it meant a great deal and opened one's eyes to just how much needs to be done. So that was a pivotal period for me, and I've been working on these issue ever since—going past two decades.
The conversation around women's issues has particularly expanded over the last couple of years. Why do you think that is?
First, I think there's been a real concerted effort on how these issues have been communicated. They are women's issues, there's no doubt about it. They're fundamentally about women's rights and that will always be the case. But I think we've also learned that if we're going to influence decision-makers who remain mostly male, that we've got to make our case in terminology and with data that they can understand…If you're in the private sector, women's purchasing power becomes something to reckon with. Women dominate 70-75 percent of that purchasing power around the world. We know that women spend their money differently, that when they have an income it has a multiplier effect because they invest in their families, they plow it into the community, they spend it on education and health and nutrition and the kind of things that raise the standard of living for themselves and more broadly.
Secondly, the paradigm is shifting to a recognition that women aren't just victims. Yes, they are victimized the world over, still in horrific ways. But women are more than that. They are change makers. As one woman said to me one night in Afghanistan: "Stop looking at us as victims and look at us as the leaders that we are." Women have agency, they have a voice, they have capacity, and at our peril do we not tap this capacity. We know that among the best development investments that can be made to educate a girl, to invest in women's empowerment—these have the highest-yield results outcomes in terms of what we want to see in human development.
I read that you said self-esteem remains one of the barriers to women. How can that be combatted?
I have seen this literally over 20 years. One of my earliest experiences in the White House was the work that the United States did to hasten the peace process in Northern Ireland during these decades of trouble that were going on between the Catholics and the Protestants. I arrived with the first lady, Hillary Clinton at the time, and we had people on the ground who were working the process. The first thing one of them said to me is the women have no confidence. They'd been told over so long that they don't belong that that becomes the first hurdle. Frankly, it was an unanticipated hurdle. We thought we'd go right into some of the critical issues, how they're going to be economically engaged etc. Dealing with their self-esteem and their confidence level was clearly something that really needed to be addressed—how to work through that and have them understand their value and their agency.
That confidence gap manifests itself when girls don't put up their hands in the classroom even though they know the answers. It manifests itself in not feeling always that one is perfect and therefore not speaking out when one does have something to say in a decision-making meeting. We have to do better. We have to recognize that there are issues still of self-esteem and confidence and get at them early on in girls' schooling.
Silicon Valley has received a lot of attention for its underrepresentation of women in the industry. What do you think is most hurt by that underrepresentation?
In the tech industry the numbers aren't anywhere near where they need to be. But this just isn't about numbers. In any industry, experiences that you represent bring a richer environment, a diversity, a creativity, an innovative component that the industry really needs if it's going to have the kind of results that we all would describe as really pushing boundaries.
Even cell phones in the developing world are a tool of incredible empowerment for a woman. That simple cell phone can bring her vital health information in ways she cannot get otherwise. It can teach literacy; it can tell her where the market is on a given day so she doesn't walk miles and miles only to find out there was no market that day. It can help her with her inventory in the markets. It can be a tool to thwart violence that's perpetrated against women that they can use for alert systems for each other or to get to law enforcement. I think most incredibly it will eventually create mobile banking. This is the future in many ways. If women can't access that future then they're going to be pushed farther behind.
What do you think or hope Hillary Clinton will add to the national conversation that's missing now as she runs for president?
I think debating the issues that have been a topic of conversation between you and me today—women's issues. I hate to call them that, but they mostly do impact women, although they have tremendous implications for all of society. These are issues she has never shied away from…childcare issues and the issues that have to do with enabling parents to work, to be good parents and to be good workers. And enabling women to be paid equally for the work that they do. So I think these are very big issues, and I think she comes with an arsenal of talent and experience and ability to really address them more significantly.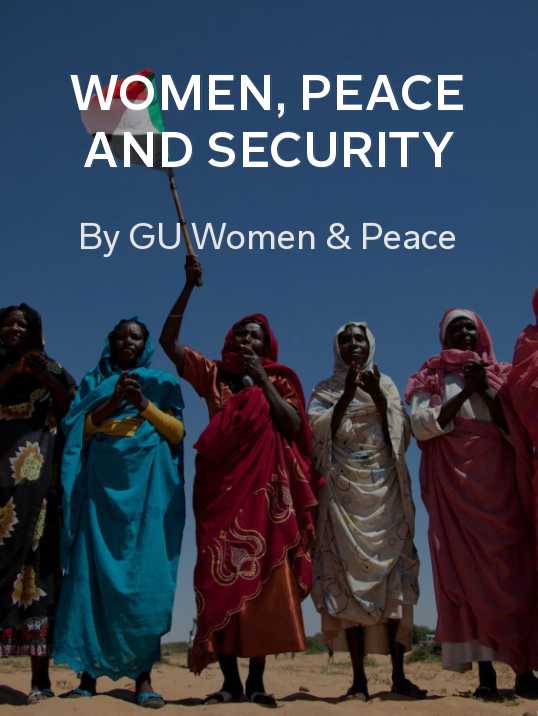 Your magazine on Flipboard focuses on the intersection of women, peace and security. It focuses on what women are and can be doing around the world. So what leaves you most inspired?
I'm always inspired, and looking at the articles [in the magazine] does it in so many ways because you see the agency of women at play. You see women in situations that none of us would want to be in; situations of conflict where they bore a heavy price, and yet at great risk, often to their lives, they are willing to stake themselves in a way where they are, to the extent that they can, be a big part of the solution. This is what inspires me. I think it's why I've stayed with these issues for the last 20 years because I see them on the frontlines of change, and this is happening everywhere in the world. Sometimes more often than not they are pushed back, and yet they don't give up. They keep struggling because in the struggles are going to come the better times. For some of them it may not happen in their lifetimes, but it will make a difference hopefully for their children and for others in their society.
~GabyS is curating "Words to Live By"
FOLLOW US ON:
FLIPBOARD / TWITTER / INSTAGRAM / FACEBOOK / GOOGLE+ / TUMBLR / YOUTUBE / SOUNDCLOUD / PINTEREST / MEDIUM