Films That Flip: A Conversation with Nebraska Director Alexander Payne
Inside Flipboard / November 15, 2013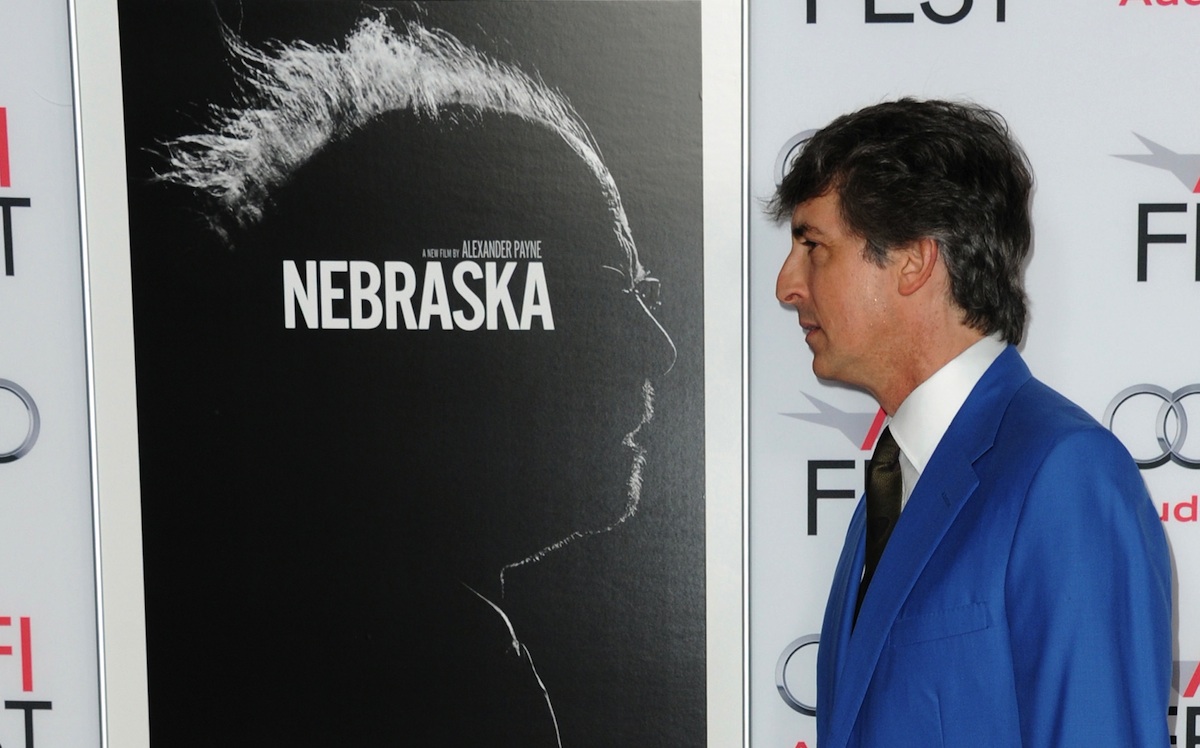 Any time director Alexander Payne picks up a screenplay, he says he prays it'll be The One. But rarely were his prayers answered, so the Oscar-winning director ended up writing the scripts to many of his most famous films (like Election (1999), Sideways (2004) and The Descendants (2011)).
His faith, however, was restored with the 90-page screenplay to Nebraska, a film about a road trip an elderly alcoholic father and estranged son take to claim a $1 million cash prize. Sure, it helped that the script was named after Payne's home state, but Payne also found something beautiful in the simplicity of the story, which stars Bruce Dern, June Squibb, Will Forte and Bob Odenkirk.
The film opens in the U.S. this weekend, but you might also hear about it again five months from now: Nebraska is an early favorite for next year's Oscar Awards. The film was also nominated at the 2013 Cannes Film Festival for the Palme d'Or, the event's highest award. It didn't win, but Dern earned Best Actor.
In preparation for the movie's release, the folks at Paramount Pictures went to Instagram and created a special Flipboard magazine that celebrates the cornhusker state. The studio also flipped in exclusive photos from the film, as well as several landscapes from the movie. You might recognize some of the photos in the magazine, that's because they come from some popular Instagram users like @colincabalka, @nyc, @grether and @dew.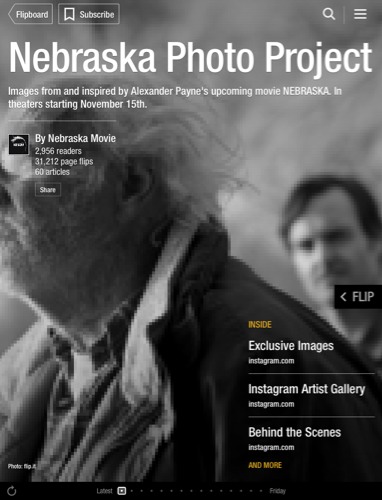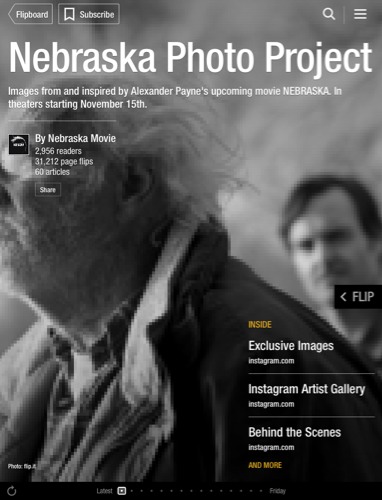 In addition, Payne chatted with Flipboard about returning home for this film, shooting in black and white, and why it's taken him 10 years to make this movie.
What do you think makes this movie so relatable for people?
I'm getting that a lot. I didn't think it would connect in the way it has or when I when first I read the script. I am hearing that a lot, that "After seeing your film, I called my parents to say hello," sort of thing. It's hard to say why; the film just strikes a chord with people in a similar situation with elderly parents or loved ones.
Today, everything is instant, fast and direct, yet your movie takes its time, breathes and flows in at strikingly slow pace. Don't you know we live in the ADD generation?
I don't think it's that slow-paced. I think we've been getting away from the MTV "cut, cut, cut" style recently. You're starting to see more of the "slow-pace" style, telling stories in real-time, and you see that a lot more in foreign films.
There's a minimalist vibe, sure. Maybe it's a reaction to the Hollywood product of necessity, given how expensive it is to make low budget films, it's the way to go. But yeah, it's different for an American audience, sure.
There's almost no signs of technology in this movie, outside the modern-day car and television. Why?
I think it's a testament more to the screenplay. Not everything has to exist in that world of Instagram, Facebook or any of that crap.
When I was at the Cannes Film Festival, an Israeli journalist told me this movie displays a time, place and people that have been kicked out of history and lived somewhere else.
It sounded good to me and still does to this day.
And the cinematography is beautifully simple. What was your thought process?
When I first read the script, it suggested to me many things. Jarmusch came up often, as did this Midwestern stranger in paradise and the dryness in which the dialogue was communicated.
It just made sense to me that this story was worth telling by planting the camera and hearing those people.
The first time you laid eyes on this script was 10 years ago. Why'd it take so long to make this movie?
Sadly, it's a superficial answer. I was just finishing Sideways, which was about two guys on a road trip, and didn't want to make another movie, back-to-back, about another damn road trip picture. I also didn't expect The Descendants would take so damn long. I kept the screenplay in the back of my mind just because I thought it could make a decent movie. It was austere.
You've said in the past that you've always wanted to make a movie in black and white. Why'd you choose to make Nebraska that movie?
It just seemed right to me. When I read the screenplay, it just made sense. There's really not more to it.
Outside of Will Forte (Saturday Night Live) and Bob Odenkirk (Breaking Bad), there aren't many recognizable actors in this film. In fact, you've given key roles to many local Nebraskans. Why?
When it comes to casting, it's important to look for people who I will truly believe in the world I'm trying to create. I can hire people from L.A. or NYC, but I'll also find regional people and populate them in the film.
They help bring the faces and accents that are genuine, as opposed to [people] from the coasts who might be told to go out and study those people. They're the most delightful people: in this movie, they were mostly retired farmers and were given key lines. Glendora Stitt, who has never been in a school play, comes to mind, because she comes out of nowhere and just blurts out, "I think you're having a senior moment." It's just magnificent to find these people and see so much talent there.
You don't make movies often. Why?
The trouble for me is always the screenplay. For The Descendents, I had the screenplay ready. If I had screenplays, I'd be cranking movies out constantly. I want to make them all the time; hell, even three a year. But not everyone can be a Spielberg or a Woody Allen or a Takashi Miike.
Granted the movie wasn't shot in your hometown, but it was in your home state. What was it like shooting again in the cornhusker state?
Having Nebraska is like having my own little Czech Republic. I can mine it for stories and find things that no one else is using. I'll use the corny metaphor where you can taste the entire ocean by taking three drops. Everything I want to use to make a film is there.
Nebraska comes out in select theaters today.
~NajibA
/flipboard
@flipboard
+flipboard