Daily Edition Top 10 (Week of September 28, 2015)
Gabriella Schwarz / October 3, 2015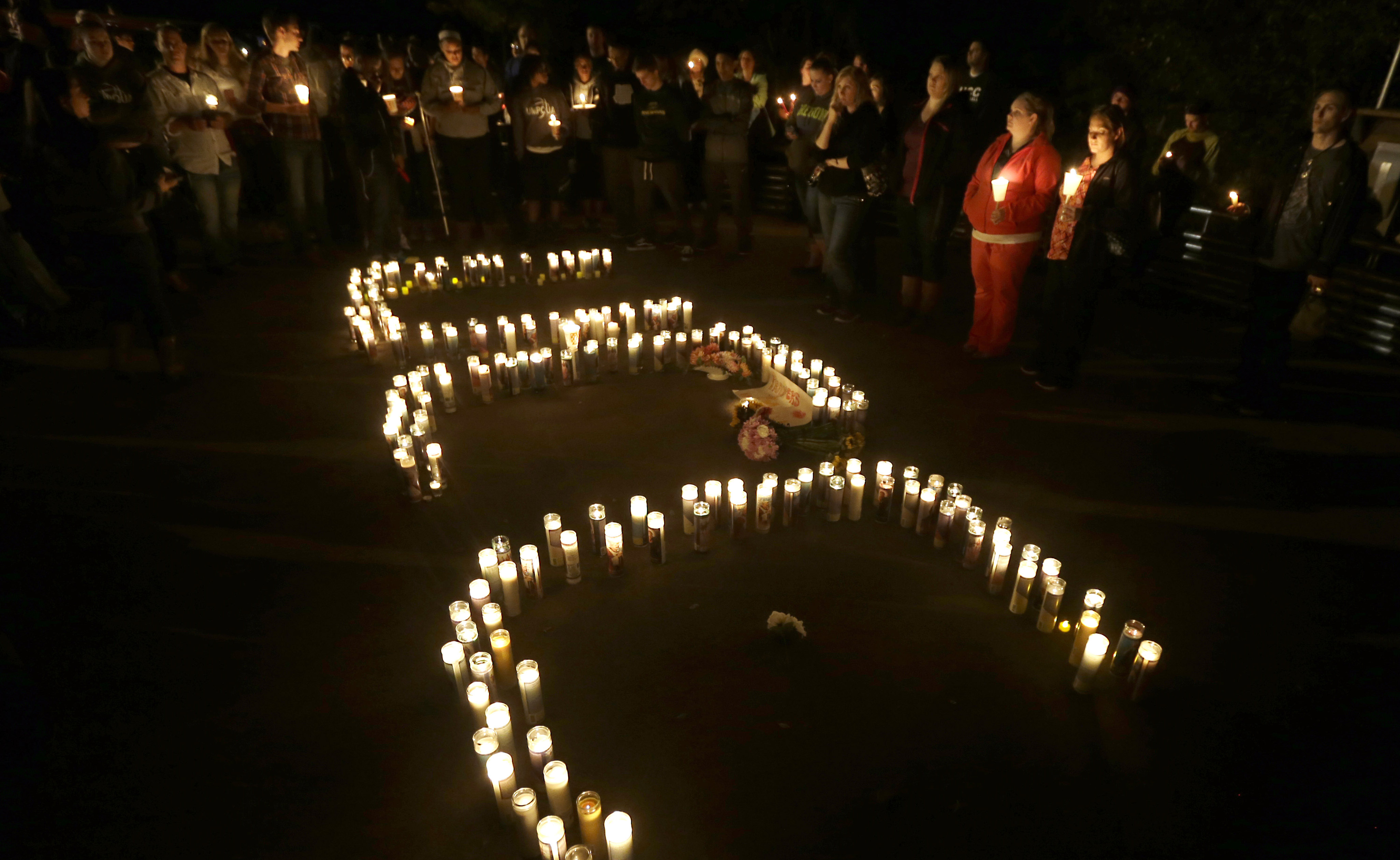 Nine people were fatally shot this week at a community college in Oregon, by the now-deceased gunman. Russia launched airstrikes in Syria. Kunduz, Afghanistan fell to the Taliban. According to new research, water is apparently flowing on Mars. An eventful United Nations General Assembly took place in New York. And a new batch of Hillary Clinton's emails were released. Learn more about these events, and others, through some of the stories that appeared in this week's Daily Edition.
1. Obama on mass shooting: 'Somehow, this has become routine' – The Washington Post, Juliet Eilperin
Top line: "Obama has frequently railed against Congress's refusal to pass additional gun control measures in an effort to curb mass shootings, especially in the wake of the Dec. 14, 2012, massacre of 20 students and six teachers at Sandy Hook Elementary School in Newtown, Conn. But on Thursday he delivered remarks in which he veered from anger to incredulity as he described his amazement that a slew of horrific attacks had failed to spur a response from Washington's political establishment."
Topic to follow: Barack Obama
2. Who Is Fighting Whom in Syria – The New York Times
Top line:
"United States
BACKS: More moderate elements among the rebel forces in Syria.
OPPOSES: The government of President Bashar al-Assad, as well as the Islamic State and other Islamic extremist groups.
Russia
BACKS: Mr. Assad, the leader of Syria, which has been Russia's only persistent ally in the Middle East for decades.
OPPOSES: The Islamic State, which several thousand young Russians have joined. Russia says it fears a so-called blowback of militants coming home to carry out attacks. But Western nations question whether Russia uses that as cover to counter any threat to Mr. Assad's rule."
Topic to follow: Syria
3. What the Modern Presence of Water on Mars Means – Time, Jeffrey Kluger
Top line: "According to a paper just published in Nature Geoscience, there appears to be liquid water flowing on the contemporary Mars. And in this case, it's not the geological definition of contemporary, which can mean the past few million years, but the common definition, which can mean, say, Tuesday."
Topic to follow: Mars
4. Why the Taliban takeover of Kunduz is a big deal – CNN, Jethro Mullen
Top line: "The Taliban appear to have made the most of the first summer fighting season since NATO troops took a step back. But there are still doubts about the militant group's ability to hold onto large areas of territory."
Topic to follow: Taliban
5. Putin and Obama: Competing Worldviews – The New York Times, Jeffrey Marcus
Top line: Fighting the Islamic State: Mr. Putin accused the United States of creating the conditions in which the Islamic State terrorist threat was born, while Mr. Obama said Russia's fealty to President Bashar al-Assad of Syria stood in the way of defeating the Islamic State, also known as ISIS or ISIL.
Topic to follow: Vladimir Putin
6. The 11 must-read Hillary Clinton emails – Politico, Nick Gass
Top line: "At one point in June 2011, Clinton wrote that it might be a good idea to publicize the fact that high-level State Department officials were using personal email accounts to conduct official business. "I think this makes good sense," the secretary wrote in response to a proposal from adviser Anne-Marie Slaughter, who said that someone should "make a statement" or "write an op-ed" to make that point."
Topic to follow: Hillary Clinton
7. What's Holding Women Back in the Workplace? – The Wall Street Journal, Nikki Waller and Joann Lublin
Top line: "Women aren't abandoning their careers in large numbers; motherhood, in fact, increases their appetite for winning promotions; and women overall don't lack for ambition and confidence that they can take on big jobs. Yet when asked whether they want a top role in their companies or industries, a majority of women say they would rather not grab the brass ring."
Topic to follow: Women Leaders
8. Digital Romance: The Teens Get It – The Atlantic, Julie Beck
Top line: "Fifty percent of teens have expressed interest in someone by friending them on Facebook or another social-media site, and 47 percent by commenting on or liking a post. Pew characterizes these interactions as "entry-level" digital flirting, often used by teens who have never dated before. But even for the older and more experienced, I think, they remain ways of dipping a toe in the ocean of romantic possibility while leaving yourself room to safely withdraw. The separation afforded by interacting through a screen can give people confidence to reach out to each other with their feelings. And though adolescence is not a life stage particularly known for its romantic savoir-faire, people are tentative in the early stages of romance at any age."
Topic to follow: Social Media
9. Calcium From Supplements or Dairy Doesn't Strengthen Bones, Study Finds – NBC News, Maggie Fox
Top line: "The new study finds that people over 50 don't get stronger bones either by taking supplements or from eating extra servings of calcium-rich foods such as dairy products."
Topic to follow: Calcium
10. The Martian review: Ridley Scott puts the science back in sci-fi – The Verge, Bryan Bishop
Top line: "It's roughly 15 years into the future, and Damon plays Mark Watney, a botanist and astronaut who's part of Ares 3, the third crewed mission to Mars. While out collecting samples from the Martian surface, a sudden storm overtakes the crew, and with Commander Melissa Lewis (Jessica Chastain) convinced that Watney's been killed by falling debris, the crew leaves the planet and begins the journey back to Earth. Only it turns out that Watney is still alive, stranded alone on the surface of the Red Planet, and with a limited number of rations and years to go before Ares 4 returns to Mars, he's got to figure out how to survive and get in touch with the folks back home. It's like Apollo 13 meets Cast Away…"
Topic to follow: The Martian
Check out The Daily Edition throughout the week for your news updates.
~GabyS is reading XPRIZE: Making the Impossible Possible
GET FLIPBOARD ON:
iOS / ANDROID / WINDOWS / WEB
FOLLOW US ON:
FLIPBOARD / TWITTER / INSTAGRAM / FACEBOOK / GOOGLE+ / TUMBLR / YOUTUBE / SOUNDCLOUD / PINTEREST / MEDIUM