Daily Edition Top 10 (Week of September 21, 2015)
Gabriella Schwarz / September 26, 2015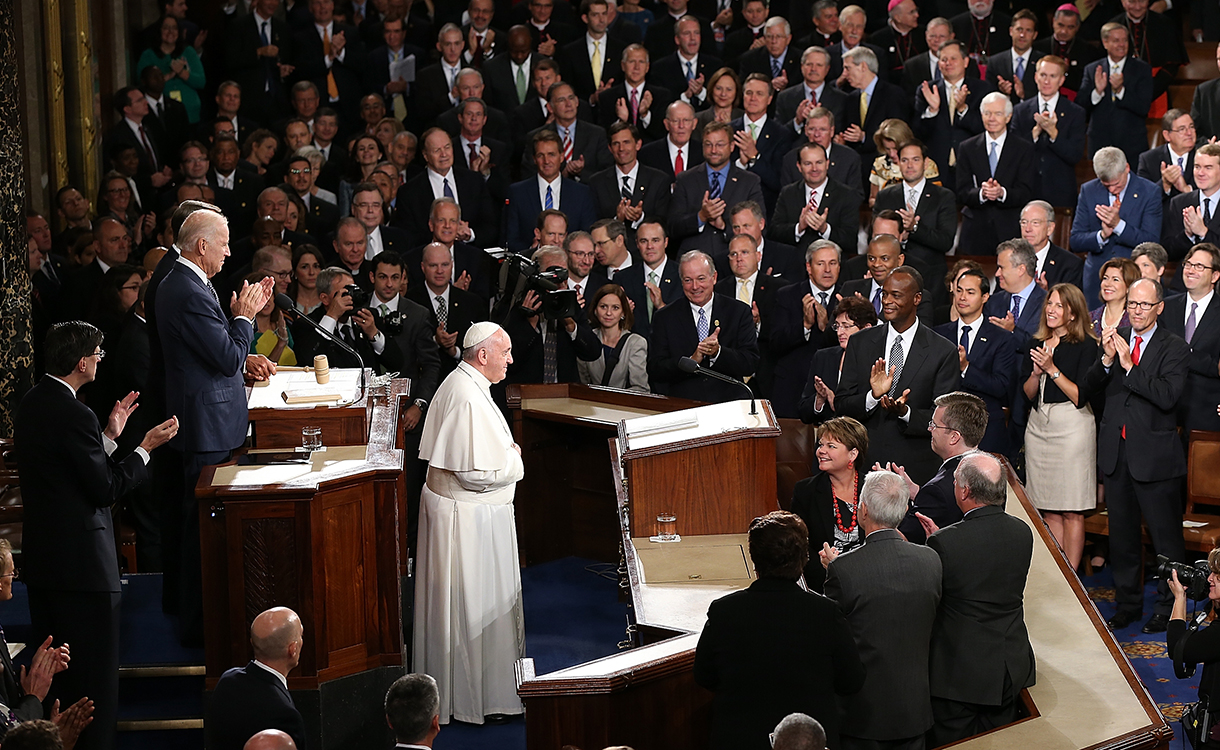 Each day this week was filled with a big news story covered in The Daily Edition, including the deadly Hajj stampede, Pope Francis's historic trip to the U.S. and the announcement that House Speaker John Boehner would step down from Congress. Read more about these stories in our top picks from the week that was.
1. Tough Words From Pope Francis: 8 Great Quotes From His U.N. Speech – NPR, Malaka Gharib
Top line: "Pope Francis, addressing the U.N. General Assembly today, urged international cooperation not only to solve humanity's largest problems but to save humanity itself…He stressed that humans have a moral duty to protect the earth, saying that it is the creation of God and humans don't have the authority to abuse or destroy it."
Topic to follow: Pope Francis
2. Hajj stampede: Saudi mufti says deaths 'beyond human control' – BBC
Top line: "Saudi Arabia's most senior cleric, the grand mufti, has said the stampede at the annual Muslim pilgrimage to Mecca on Thursday was beyond human control."
Topic to follow: Mecca
3. Behind Boehner's decision to call it quits – Politico, Jake Sherman, Anna Palmer and Josh Bresnahan
Top line: "But at 6 p.m. Thursday, shortly after a meeting with five of his conservative colleagues, Boehner came into [Chief of Staff Mike] Sommers' office and said he was thinking seriously about resigning. The two spoke for an hour, weighing the decision and its implications for the House. Boehner then retreated to his office, where he sat in solitude for 45 minutes. When he returned, Boehner looked at Sommers and said, 'Tomorrow's the day.'"
Topic to follow: John Boehner
4. 6 awkward conversation topics for Obama, Xi – CNN, Tal Kopan
Top line: "1. Hacking…2. Economy…3. Naval conflict…4. Human Rights…5. Trade…6. Repatriation"
Topic to follow: China
5. 6 Ways Europe's Refugee Crisis Is Unlike Any Other – BuzzFeed, James Ball
Top line: "1. This crisis is on a bigger scale than anything Europe's seen for a very long time…2. There are a lot of children traveling alone…3. People are coming from a lot more countries…4. Germany is by far the top destination – and its lead is growing…5. Refugees aren't coming in through just one route…6. Many people who are entering Europe are skilled workers."
Topic to follow: Immigration
6. HR Meets Data: How Your Boss Will Monitor You To Create The Quantified Workplace – Fast Co., Greg Lindsay
Top line: "If this future comes to pass, it'll be thanks to the box of sensors slung around your neck masquerading as your ID. These 'sociometric badges' already exist, created by a Boston-based company called Humanyze. Using a combination of microphones, infrared sensors, accelerometers, and Bluetooth, they measure wearers' movements, face-to-face (and badge-to-badge) encounters, speech patterns, vocal intonations, and even posture to measure office statistics, like who's really talking to whom, for how long, and where."
Topic to follow: Workplace Wellness
7. How Scott Walker became an asterisk – Politico, Glenn Thrush
Top line: "After a promising start last winter, the two-term Wisconsin governor turned out to be a tentative and mistake-prone candidate who badly fumbled core Republican issues — especially birthright citizenship — that Trump and other top GOP candidates handled with relative ease."
Topic to follow: Scott Walker
8. To Catch A Bomb-Maker – Popular Science, Clay Dillow
Top line: "During the conflicts in Iraq and Afghanistan, improvised explosive devices (IEDs) became the single deadliest weapons on the battlefield. In Iraq alone they accounted for between half and two-thirds of all U.S. wartime casualties and killed tens of thousands of civilians. They have now become a staple of insurgencies worldwide. But back in 2005—when the bombmaker sat poring over his Senao—the U.S. military was only beginning to understand the threat they posed."
Topic to follow: Terrorism
9. Do humans stand a chance in Earth's sixth mass extinction? – Quartz, Matthew Wills
Top line: "Mass extinctions almost certainly result from catastrophic physical changes to the environment, with a speed that makes it difficult or impossible for animals to adapt and evolve to accommodate. Some groups are depleted much more than others, and in ways that are difficult to predict."
Topic to follow: Extinction
10. 5 TV Shows To Watch In An Otherwise Uninspiring Fall Season – NPR, Eric Deggans
Top line: "5 shows to watch: The Muppets…Supergirl…Grandfathered and The Grinder…Crazy Ex-Girlfriend."
Topic to follow: TV
Check out The Daily Edition throughout the week for your news updates.
~GabyS is reading Pope Francis' Visit to U.S.
GET FLIPBOARD ON:
iOS / ANDROID / WINDOWS / WEB
FOLLOW US ON:
FLIPBOARD / TWITTER / INSTAGRAM / FACEBOOK / GOOGLE+ / TUMBLR / YOUTUBE / SOUNDCLOUD / PINTEREST / MEDIUM