CNN Debate Recap: Why Clinton & Sanders Had a Good Night
Gabriella Schwarz / October 14, 2015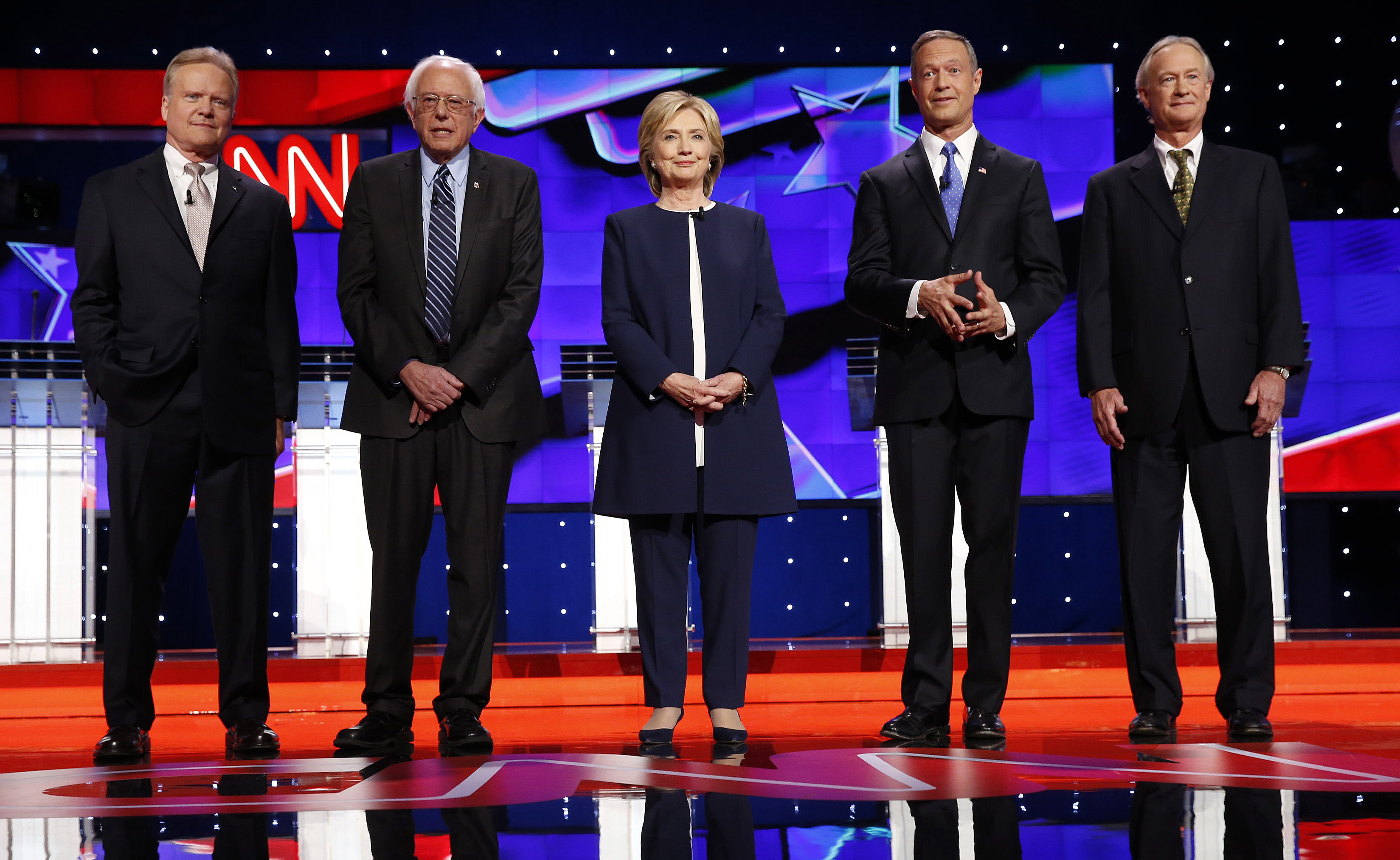 The five Democratic presidential candidates—former Secretary of State Hillary Clinton, Vermont Sen. Bernie Sanders, former Maryland Gov. Martin O'Malley, former Rhode Island Gov. Lincoln Chafee and former Virginia Sen. Jim Webb—debated for the first time Tuesday night. As part of our political platform Election Central, we interviewed CNN Politics Executive Editor Mark Preston about who was most helped and most hurt by the debate in Las Vegas.
Who was most helped by the first Democratic debate?
Hillary Clinton and Bernie Sanders both had good nights—and their campaigns can walk away happy, perhaps relieved, about how each candidate performed. Clinton showed confidence, Sanders showed passion, and the race for the Democratic nomination is clearly between these two former Senate colleagues.
Who was most hurt by the first Democratic debate?
Lincoln Chafee and Jim Webb did little to make a compelling case that Democrats should support them in this primary battle. Chafee did not display confidence and Webb did not show passion. Each candidate had an opportunity to really introduce themselves to a large, engaged audience. The problem is that they failed to give voters a reason to support them.
Did any of the lesser-known candidates have a breakout moment?
Martin O'Malley did not have a breakout moment, but he made arguments that appeal to the Democratic base and looked presidential on stage. He did well enough to live another political day.
Will this change the Democratic race going forward? If so, how?
The race will largely stay the same, without much movement in the polls. But you are likely to see Democrats start to tune in more to the presidential race, which has been dominated by the GOP and Donald Trump.
Do you think the debate will impact Vice President Joe Biden's decision about whether to jump in or not?
I don't know if Vice President Biden can look at that debate and see that there is room on the stage for him. The strength of his candidacy is based on the weakness of Hillary Clinton. She delivered a strong performance and I think it will be difficult for him to get in and give the fuel for a strong campaign.
Who do you think will be on the stage for the second Democratic debate?
All five candidates will be on stage at the second debate. The DNC wants it to happen and there really is no reason for Jim Webb or Lincoln Chafee to drop out. When else will they have a chance to have 15 million people listen to their ideas about how to address the nation's problems?
Read Preston's thoughts on the state of the Republican race here and here, and check out CNN Politics: 2016 On Tap Flipboard Magazine for more on the state of the race and polling.
~GabyS is reading The Daily Edition
GET FLIPBOARD ON:
iOS / ANDROID / WINDOWS / WEB
FOLLOW US ON:
FLIPBOARD / TWITTER / INSTAGRAM / FACEBOOK / GOOGLE+ / TUMBLR / YOUTUBE / SOUNDCLOUD / PINTEREST / MEDIUM